The following article has been generously shared with our readers by Jim Quinn of The Burning Platform
"The inability to predict outliers implies the inability to predict the course of history"
― Nassim Nicholas Taleb, The Black Swan: The Impact of the Highly Improbable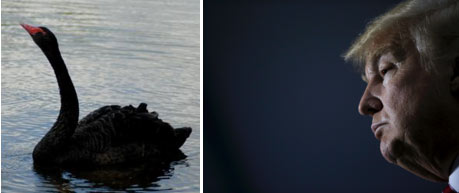 "I know that history is going to be dominated by an improbable event, I just don't know what that event will be." ― Nassim Nicholas Taleb, The Black Swan: The Impact of the Highly Improbable
Nassim Taleb is a prickly arrogant SOB who doesn't give a crap what intellectuals, academics, and other establishment elitists think about him. He has an Ivy league MBA, but despises everything about the curriculum of Ivy League MBA programs. He has a PhD, but scorns academics and their worship of theories and models. He enjoys poking holes in the storylines of the propaganda spewing corporate media. He glories in ridiculing the predictions of captured "experts" mouthing the talking points of whichever corporate interest is paying them blood money.
I read his brilliant Black Swan book back in 2008. It was a difficult read, but there were so many gems of wisdom throughout the book, it was a powerful tome predicting the financial collapse in real time. He wrote it in 2006. He understands the world doesn't operate the way Ivy League models say it is supposed to operate. The world is propelled by black swans, not a normal distribution of the world. He was right in 2006 and he's right now. The paragraph below has been making the rounds in the alternate media this past week. The establishment media would never publicize it, as their job is to protect the crumbling social order.
He sees what the pseudo intellectuals, highly paid pundit monkeys, think tank pay for play sages, and other mouthpieces for the establishment have failed to see. They didn't see the 2008 black swan coming and they fail to grasp the black swan flying into their midst today. Taleb understands unexpected events of large magnitude and consequence and their dominant role in history. Trump is an extreme outlier who will play a large role in sweeping away the existing establishment. The "experts" foisted upon the masses by the dying legacy media are clueless as to what is really happening.
"The problem with experts is that they do not know what they do not know"
― Nassim Nicholas Taleb, The Black Swan: The Impact of the Highly Improbable
Trump's blunt, angry, provocative, anti-establishment message has struck a chord among millions of disaffected Americans who have been ignored, abused, scorned, and shit on by the elitist establishment, banking cabal, corrupt politicians and government apparatchiks. The Deep State establishment has overstepped their bounds. Their ravenous pillaging of the national wealth through outsourcing millions of American jobs, largest mortgage control fraud in history, and outrageous gall in shifting their losing bets onto the backs of hard working Americans is about to bite them in the ass.
With real median household no higher than it was in 1988, the Wall Street criminal banks and their Madison Avenue maggot propaganda machine convinced the masses to add $2.8 trillion of consumer debt since 1988, a 500% increase. Meanwhile GDP has only gone up by 350%. The establishment has stolen the wages of the people while simultaneously enslaving them in chains of debt. TARP, ZIRP, QE, the $800 billion porkulus plan, Obamacare, non-stop social engineering, black lives matter, never ending wars, and now more jobs sacrificed at the altar of TPP, have pushed working class Americans beyond the point of no return. They are finally fighting back.
When you read Taleb's assessment of our interconnected fragile world written in 2006, you see a mind far more advanced than the phony establishment acolytes appearing on CNN, MSNBC, and Fox on a daily basis:
"Globalization creates interlocking fragility, while reducing volatility and giving the appearance of stability. In other words it creates devastating Black Swans. We have never lived before under the threat of a global collapse. Financial Institutions have been merging into a smaller number of very large banks. Almost all banks are now interrelated. So the financial ecology is swelling into gigantic, incestuous, bureaucratic banks – when one falls, they all fall. The increased concentration among banks seems to have the effect of making financial crisis less likely, but when they happen they are more global in scale and hit us very hard. We have moved from a diversified ecology of small banks, with varied lending policies, to a more homogeneous framework of firms that all resemble one another. True, we now have fewer failures, but when they occur … I shiver at the thought."― Nassim Nicholas Taleb, The Black Swan: The Impact of the Highly Improbable
Not only did Taleb grasp what was about to happen in the immediate future, he foresaw the global black swans which have blown up the Middle East and threaten to blow up the world:
"Dictatorships that do not appear volatile, like, say, Syria or Saudi Arabia, face a larger risk of chaos than, say, Italy, as the latter has been in a state of continual political turmoil since the second war."―Nassim Nicholas Taleb, The Black Swan: The Impact of the Highly Improbable
Taleb's current assessment that votes for Trump and Sanders are actually votes to destroy the establishment is entirely accurate, in my opinion. One year ago, no one on the face of the earth thought either one of these men had any chance of getting even 1% support for president of the United States. Anyone who says otherwise is a liar. Jeb and Hillary were awaiting coronation as the establishment selections who would keep the status quo and continue the warfare/welfare policies of the corporate fascist surveillance state. The establishment and their paid pundits on propaganda TV were fat, content, smug and happy.
Trump was considered an oddball billionaire reality TV star self promoter. An impartial assessment would say he was an intelligent man, brilliant marketer of himself and his brand, with a spotty record in the casino business, but generally a successful real estate mogul, with no strong political ties. There was absolutely no forewarning of a dynamic popular uprising anti-establishment presidential campaign on the horizon. Sanders has been a black sheep socialist in Congress for the last 25 years. He was the Ron Paul of the left, ignored, shunned and belittled. None of the talking heads or spokesmodels on the MSM faux news networks thought he could garner a vote, let alone challenge Queen Hillary.
I have to admit I didn't take Trump's candidacy seriously at first. I knew the mood of the country was darkening. I knew the economic recovery storyline was a fraud. I knew the average American was struggling to make ends meet. I knew the Wall Street criminal banks and their Federal Reserve puppets had saved themselves and their corporate cronies while throwing senior citizens and savers under the bus. I didn't know they would rally around Trump's bombastic anti-illegal immigration, anti-corporate trade deal, anti-establishment message in such large numbers. But they have. I was wrong.
You can only agree or disagree with Trump in a general sense, because there are no real specifics or track record to assess. Slogans and broad pronouncements don't change how a country is governed. That is beneficial for his candidacy, as emotion and the mood of the country are driving his support. He has capitalized on the anger, disillusionment, and cynicism of the public to propel a campaign that can't be stopped by the establishment. The linear thinkers in the establishment are dumbfounded by this staggering turn of events. Their protected, isolated, posh lives are being turned upside down. Trump is the large deviation black swan ruining their bell curve lives.
It seems the establishment is the turkey in Taleb's revision of belief tale:
"Consider a turkey that is fed every day. Every single feeding will firm up the bird's belief that it is the general rule of life to be fed every day by friendly members of the human race "looking out for its best interests," as a politician would say. On the afternoon of the Wednesday before Thanksgiving, something unexpected will happen to the turkey. It will incur a revision of belief." ― Nassim Nicholas Taleb, The Black Swan: The Impact of the Highly Improbable
The plutocracy of criminal Wall Street bankers, pliant central bankers, clueless Ivy League academics, internet media moguls, billionaire corporate chieftains, bought off politicians, and their parasitic toadies live in gated compounds, fly on their luxurious Gulfstream jets, are chauffeured to their exclusive dinner parties, have heavily armed private security services, send their kids to exclusive private schools, have private doctors at their beck and call, and never feel the need to mingle with the lowly plebs. They have secretive meetings on private islands off Georgia to decide what's best for the easily manipulated masses – control of the banking system in 1913 and stopping Trump today.
As a libertarian, much of what Trump is selling does not appeal to my view of the world and how it should function best. But it doesn't matter what I think at this point. The country is being catapulted by emotion and a wave of anti-establishment sentiment. The establishment is thrashing about in the death throes of a corrupt multi-decade run. They will resort to violence in order to maintain their power, control, and wealth. But this time it will likely fail. Enough people are choosing an assertive leader to follow to blow this thing sky high.
Specific policies are meaningless. This dynamic is driven by pure emotion. People are voting for the enemy of their enemy. No one knows where this will lead. It will likely lead to more violence, civil chaos, economic turmoil, assassination attempts, and eventually war. One thing is certain, the establishment will fall. Some people think Trump is part of a master plan by the establishment to gain even more power. Anything is possible, but keeping the masses sedated and focused on their iGadgets seems to be a better play for the establishment. Allowing the anger and contempt for the existing social order to be unleashed through Trump's rhetoric is not coming from the standard establishment playbook.
It seems the people are finally beginning to heed Howard Beale's plea in the 1974 movie Network:
All I know is that first, you've got to get mad.

You've gotta say, "I'm a human being, goddammit! My life has value!"

So, I want you to get up now. I want all of you to get up out of your chairs. I want you to get up right now and go to the window, open it, and stick your head out and yell,

"I'm as mad as hell, and I'm not going to take this anymore!!"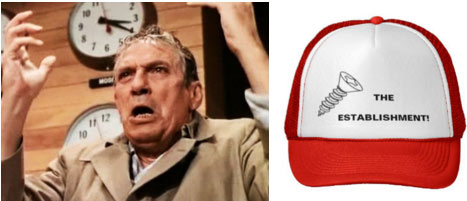 We now can plainly see the left wing and neo-con wing of the establishment Party both have the same agenda. These faux believers in free speech are doing their utmost to shut down Trump's right to free speech. They believe in speech they can control. They believe in pre-approved establishment speech designed to manipulate, mold, and form the opinions of the masses. They are using every dirty trick in their bags to derail Trump. I think they will fail, as the mood of the country grows angrier by the day. Taleb's assessment about the establishment is accurate. His warning below should also provide some perspective on where we are going. The tens of millions of Americans who have been screwed by the establishment are gathering together behind Trump. Will he lead the country in the right direction? Going it alone against the establishment has failed. It looks like we are going to find out what happens when enough people bind together to destroy the establishment. It's going to be a wild ride. Prepare yourself and your loved ones.
"Alas, one cannot assert authority by accepting one's own fallibility. Simply, people need to be blinded by knowledge-we are made to follow leaders who can gather people together because the advantages of being in groups trump the disadvantages of being alone. It has been more profitable for us to bind together in the wrong direction than to be alone in the right one. Those who have followed the assertive idiot rather than the introspective wise person have passed us some of their genes. This is apparent from a social pathology: psychopaths rally followers."― Nassim Nicholas Taleb, The Black Swan: The Impact of the Highly Improbable
Visit The Burning Platform for more insightful news, commentary and musings.