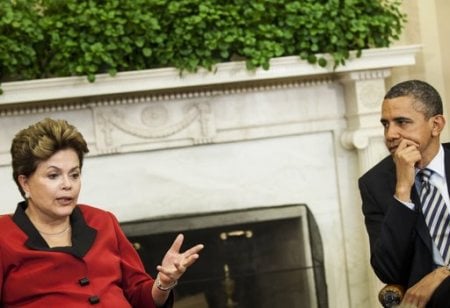 In a meeting where neither looks very happy with the other, Brazil's President Dilma Rousseff lambastes President Obama over expansionist monetary policies that are having a direct impact on the currencies of emerging economies, including her own.
Throughout the clip, as Rousseff discusses her concerns over US monetary policy, President Obama seems visibly annoyed and distant, giving the impression he'd rather be teeing off than discussing the critical monetary, fiscal and economic issues facing the world. The President's body language – his twiddling of the thumbs, rubbing the corners of his mouth, inability to remain focused – overtly indicates either his complete disinterest in how US monetary policy affects our global trading partners, or that he simply doesn't understand what this woman is talking about.
I also voiced to President Obama Brazil's concern regarding the monetary expansion policies that ultimately mean that countries that have a surplus be able to strike a balance in those economic monetary expansion policies through fiscal policies that are ultimately based on expanding investments.  Such expansionist monetary policies in and of themselves, in isolation regarding the fiscal policies, ultimately lead to a depreciation  in the value of the currency of developed countries, thus impairing growth outlooks in emerging countries.
This isn't the first time Rousseff has raised alarms about inflation-exporting policies of the US central bank. Earlier this year she noted that the "monetary tsunami" from the United States is forcing other currencies down relative to the US dollar, making its exports less competitive in the global market place.
While our media and government shelter us from the reality of global instability, it is becoming increasingly clear that leaders of the developed and emerging economic world know exactly what's happening and who's behind it. Based on President Rousseff's body langauge and facial expressions as she met with President Obama, she seems quite disgusted over the whole matter.