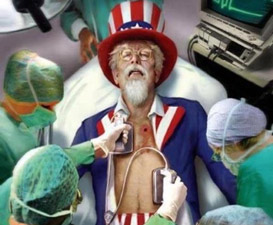 It's safe to say that everything from politics to our economy is being manipulated on the highest levels of global governance and finance. While those in the upper echelons of the decision making apparatus tell us their agenda is being implemented for the betterment of society and the little guy, we know that exactly the opposite is the case. And at some point in the very near future this will become apparent to the general public. By the time the people realize what has happened, however, it'll be much too late. As the latest micro-documentary from the Wealth Research Group highlights, the system as we have come to know it is on its last leg and those who fail to understand what's happening around them will pay the ultimate price.
A Must-See breakdown of where we are and where we're headed next:
This is our final chance to protect ourselves from the catastrophic ending to a 103-year-old era.  The greatest wealth transfer of all times is upon us as Treasury bill holders and everyday savers will lose fortunes while the U.S. dollar takes the last breath before returning to ashes… like all fiat currencies throughout history.

…

The Treasury collaborated with The Fed on their largest combination of scams ever… the bailouts… the QE programs… and negative interest rates.

But the most desperate action is yet to come. In order to keep the dollar alive the equivalent of electric shocks will be given to save the dollar. Get ready for helicopter money.

This is our worst nightmare if it happens and has the potential to lead to hyperinflation.
Visit Wealth Research Group for more videos like this one or Subscribe At Youtube.