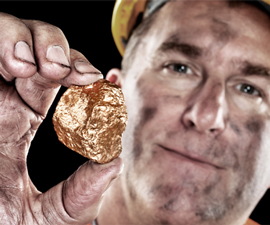 Former Federal Reserve Chairman Ben Bernanke under questioning from Congressman Ron Paul (see video below) stated with conviction and confidence that gold is stockpiled en masse by central banks only "because of tradition," implying the precious metal really has no monetary value.
But if you're like Wade Hodges, you have a slightly different take on the matter. "I think it's certainly a tradition," says Hodges. "It's a tradition that goes back to the beginning of human history." 
In a recent interview with SGT Report the Nevada Exploration, Inc. CEO says that peak gold production issues combined with global tensions require us to "look at plausible scenarios for the future" and take action now. It's a sentiment that may not be shared by The Fed's central bankers, but one their counterparts in Russia and China understand very clearly, evidenced by their rapid accumulation of thousands of tons of gold in recent years.
As criminal governments continue to burn fiat currencies to the ground, there will be a return to PHYSICAL GOLD as money – at the exact same time it's getting harder and harder to find.
Watch as Wade Hodges totally destroys The Fed's narrative, explains why governments and high-value investors the world over are gobbling up gold, where the next big finds will happen and the strategies he's implementing now:
Hodges, a geologist by trade who was recently featured on the History Channel and has millions of ounces in gold finds under his belt, explains that both discovery and production have peaked to such an extent that shortages and price increases are inevitable.
The following charts demonstrate exactly why Russia, China and some of the world's richest investment professionals are feverishly buying up gold resources around the world.
Peak Gold Production and Peak Discovery: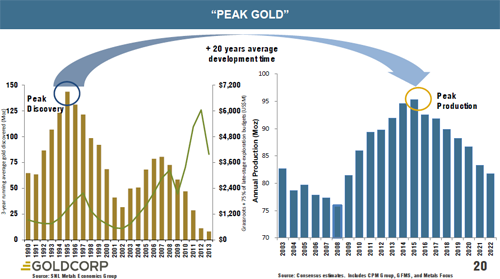 Gold Discoveries Have Collapsed: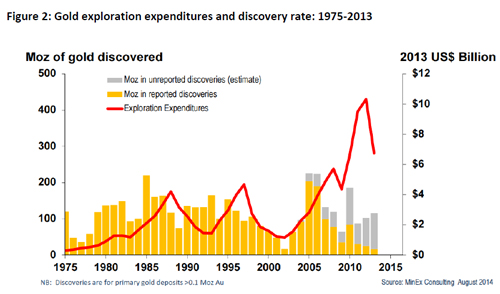 (Hattip Future Money Trends)
As evidenced by the above charts, several large investment banks including Goldman Sachs have warned of "peak gold" resulting from falling production and reduced discoveries. The difficulties in making new discoveries and then getting those assets out of the ground coupled with prices that are currently below production costs makes mining gold nearly impossible for most producers. This means that gold mining firms will have to either dig deeper (and spend more money) to find precious metals-rich deposits, or they'll have to develop new technologies to look for gold in places like Nevada, which has been largely ignored, much like the parts of Texas or North Dakota before new oil technologies led to the most recent boom.
"Nevada has the highest concentration of gold deposits per unit area on the planet."
Economic powerhouses like China are using their excess dollars to accumulate an interest in commodity assets, including precious metals like gold because they see the writing on the wall.
Concerns over peak gold and supply shortages to come as many mining firms around the world reduce staff or close up shop completely bode well for gold's long-term prospects as a way to store, preserve and grow wealth.
Moreover, combined with the current climate of economic and geo-political uncertainty, it's only a matter of time before gold once again becomes the safe haven asset of last resort as panic over financial and economic collapse drives capital to where it has always flowed in times of crisis.
For more insightful interviews visit SGT Report.
Click Here to learn more about Wade Hodges and his company Nevada Exploration, Inc.