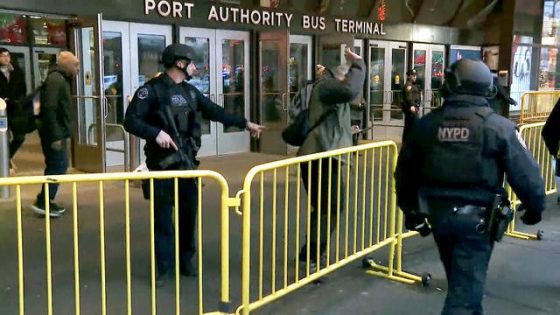 New York City Police confirmed one male suspect was in custody following Monday's explosion near the Port Authority Bus Station. The suspect, who has ties to ISIS was the only one with injuries, officials said.
Commuters were urged to avoid the area as authorities continue to investigate the bombing which luckily, wasn't as horrific as it could have been. New reports said the suspect in Monday's explosion in New York City was wearing the explosive device when it was detonated. It remained unclear whether it was a backpack or explosive vest of some sort, though it appeared it was not a pipe bomb as previously reported.
Eyewitness Francisco Ramirez told CNN that he heard two explosions as he was exiting a bus about 7:45 a.m. EST.
"From what I saw it sounded like it came from the subway, but I'm just guessing," he said. "It was two distinct explosions seconds from each other. As I was making my way toward the outside, I kept getting shoved by cops and there were cops at every entrance blocking and there was police and SWAT everywhere."
"It was scary. It was just a lot of chaos but I didn't see any injuries," he added.
BREAKING VIDEO: MOMENT OF EXPLOSION AT TIMES SQUARE SUBWAY STATION pic.twitter.com/bb6nEPwfqD

— Breaking911 (@Breaking911) December 11, 2017
At least four people have also suffered non-life threatening and minor injuries such as ringing in ears, headaches, and scrapes according to police officials.
President Donald Trump has been briefed on the situation, according to Press Secretary Sarah Huckabee Sanders.  Reports said that New York Mayor Bill de Blasio has also been briefed on the incident.
Some reports are conflicting as this story continues to develop.