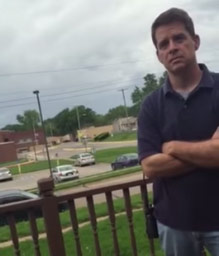 Are you being watched by the Federal Bureau of Investigation because of your concerns about an overbearing government?
The answer should be obvious given the nature of America's budding surveillance state and a new video shows just how far law enforcement officials are willing to go to protect the Homeland from anyone who engages in the dissemination of ideas that are counter to the official narrative.
As you'll see in the footage below, if you show concern or are outspoken about the upcoming Jade Helm 15 military exercises, then you may be getting a personal home visit from the FBI.
FBI: Basically we're just following up on a phone call… there's a lot of news reporting about Jade Helm and that… and I was just wondering if you have a couple minutes to talk about it… you had called in kind of concerned about it… We follow up with anything like that… we follow all that national stuff.
If you've ever wondered if there is a main core red list and what it's like to be visited by agents of the Federal government because you support the individual rights outlined by the U.S. Constitution, then watch the videos below.
(Videos via Godlike Productions, Freedom Fighter Reports)
According to the federal agents who visited James Casale in Colorado, they are merely trying to gather more information about this Summer's military operation from citizens who may have come across information not yet available to the FBI.
This reasoning, of course, is ridiculous, as highlighted by Freedom Fighter Reports:
Since when do the people of America know more about a military drill than the FEDS? Almost never, so why in the world are the FEDS questioning Americans about their knowledge in regards to Jade Helm 15?

…

The FEDS are as seen not taking any notes on what the patriot is describing, which means they already know all that is being said and the only reason for their visit is not for the safety of the citizen it is for the profiling of innocent freedom loving Americans.
The FBI agents were cordial and seemingly confused about the Jade Helm 15 operation.
But make no mistake, they did not visit this American because they needed more information from him so that they could look into the military exercises. Their prerogative was to profile and garner more intelligence about the 'extremist' views held by the man who answered the door. They wanted to know what he knew and specifically, who he knew, presumably because they would be paying those folks a visit as well.
The FBI and our nation's entire homeland security apparatus is now implementing Stalin-esque techniques to keep tabs on dissenters.
Incidentally, the Jade Helm 15 operation is designed to train military operatives how to identify and round up dissidents and subversives (and their children), and then ship them off in shackles to government managed detention facilities.
This is America 2015.
Related Reading:
Texas Ranger Drops Jade Helm Bombshell: "There Are Trains With Shackles On Them"
If Martial Law Comes to America "Dissidents and Subversives Would Be Rounded Up"
Will You Survive Being Sent To A FEMA Camp?
Look At All This Armor The Government Is Moving For Jade Helm Military Exercises