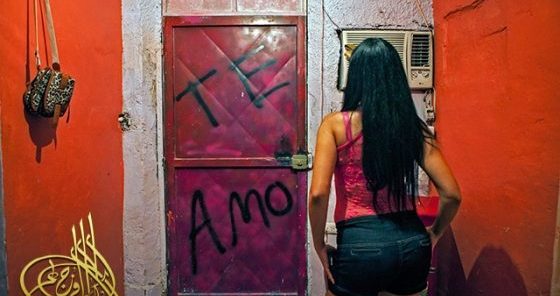 All twelve women who work at the "Show Malilo Night Club" brothel in Arauca, Colombia are from Venezuela. As Venezuela's socialist economic crisis continues, many Venezuelan women have turned to the sex trade in neighboring Colombia to eat and provide for their families.
"We've got lots of teachers, some doctors, many professional women and one petroleum engineer," brothel owner Gabriel Sánchez said of the women who sell their bodies for $25 an hour.  "All of them showed up with their degrees in hand." Sanchez who is 60 years-old, started the brothel in Arauca, Colombia after he lost his job in a car repair shop in Venezuela thanks to the government's socialist policies.
Sánchez and others in the sex industry say Venezuelans dominate the trade now because they're willing to work for less pay. "I would say 99 percent of the prostitutes in this town are Venezuelan," he said. Amid food shortages, hyperinflation, rampant poverty driven by socialism, and U.S. sanctions, waves of economic refugees have fled the country. Those with the means to do so have gone to places like Miami, Santiago, and Panama. But those who are less fortunate, have had to sink low to simply eat.
A recent study suggested as many as 350,000 Venezuelans had entered Colombia in the last six years. With jobs scarce in the country though, many young (and some not so young) women are turning to the world's oldest profession to make ends meet. According to the Miami Herald, prostituting for money to buy basic necessities has become commonplace for Venezuelan women.
"If you had told me four years ago that I would be here, doing this, I wouldn't have believed you," said Dayana, who asked that her last name not be used. "But we've gone from crisis to crisis to crisis, and now look where we are." Dayana is a 30-year-old mother of four who found herself struggling to feed her family in Caracas.  Seven months ago, she came to Colombia looking for work. Without an employment permit, she found herself working as a prostitute in the capital, Bogotá.  Dayana said she used to be the manager of a food-processing plant on the outskirts of Caracas, but that job disappeared after the government seized the factory and "looted it," she said.
With inflation running in excess of 700 percent and the bolivar currency in free fall, finding food and medicine in Venezuela has become a frustrating, time-consuming task. Dayana said she often would spend four to six hours waiting in line hoping to buy a bag of flour. Other times she was forced to buy food on the black market at exorbitant rates. Hunger in Venezuela is rampant. –The Miami Herald
Many in Venezuela didn't prepare for the certain economic failure and food shortages that inevitably result from socialism. As The Prepper's Blueprint says "If we have learned one thing studying the history of disasters, it is this: those who are prepared have a better chance at survival than those who are not. A crisis rarely stops with a triggering event. The aftermath can spiral, having the capacity to cripple our normal ways of life." And Venezuela is in the midst of such a crisis.  This is made evident by the seeking of prostitution jobs by previously successful and professional women.
Dayana claims she can make between $50-$100 per night by selling herself for 20 minutes at a time. "Prostitution obviously isn't a good job," she said. "But I'm thankful for it because it's allowing me to buy food and support my family."
There seems to be no end in sight for Venezuela's economic pain either.  And President Nicolás Maduro has been digging in and avoiding the economic reforms that economists say are necessary.