This article was originally published by Joshua Krause at Tess Pennington's ReadyNutrition.com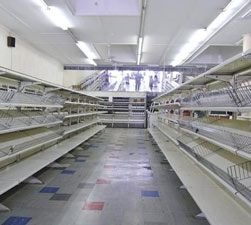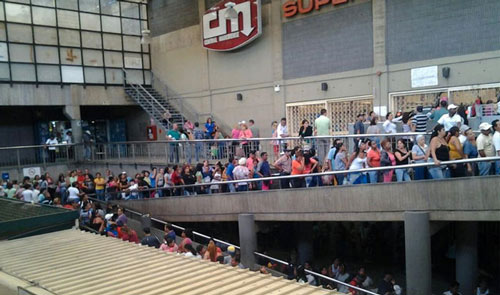 (Pictured: The line outside of a Venezuelan super market swells as the country runs out of basic necessities)
Two years ago, Venezuela was a normal functioning nation, relatively speaking of course. It was by no means a free country, but the people still had a standard of living that was higher than most developing nations. Venezuelans could still afford the basic necessities of life, and a few luxuries too.
They could send their children to school and expect them to receive a reasonably good education, and they could go to the hospital and expect to be effectively treated with the same medical standards you'd find in a developed nation. They could go to the grocery store and buy whatever they needed, and basic government services like law enforcement and infrastructure maintenance worked fairly well. The system was far from perfect, but it worked for the most part.
However, this standard of living was a mirage. Venezuela was and still is a leftist socialist nation, and the only thing propping it up was their glut of oil reserves and $100 per barrel prices. The state owned those resources, and they provided so much wealth that even Venezuela's highly inefficient command economy could provide everything the people needed. But socialist systems do not by their nature, respond well to shock and disruptions. They're not flexible.
As soon as the price of oil fell, the country started crumbling rapidly. The infrastructure has fallen apart, leading to rationing of both water and electricity. Inflation is out of control. Price controls have led to shortages of basic necessities. Crime is skyrocketing, and vigilante mob violence is now commonplace. All of these trends have been building over the past two years, but they have finally reached a crescendo over the last few weeks:
In Washington, the US intelligence officials told reporters they believed a crisis was imminent.

"You can hear the ice cracking. You know there's a crisis coming. Our pressure on this isn't going to resolve this issue," said one official.

Another said: "This is really not the case that the US is rooting for any outcome other than there not be an economic meltdown or social violence. There are reasons for concern that over the summer as Venezuela gives importance to payments on debt over imports that these events could spiral."
If you're a prepper, pay close attention to what happens next. What's playing out in Venezuela right now is the kind of worst case scenario that many of us have been preparing for in the US. It should be very informative. It just goes to show that if you live under a corrupt authoritarian government that can't manage its resources, all it takes is a heavy ripple in the global economy to send the whole system careening over a cliff.
I wouldn't say the US government is in nearly as bad of shape as Venezuela's. We have corruption, waste, and a degree of tyranny, though perhaps not on the same scale. But then again, Venezuela didn't seem to be in very bad shape a few short years ago. Under the right circumstances, any government can collapse, and our system has many of the same vulnerabilities as theirs. All that means is that it would take a larger event to cripple our nation.
If you're curious about what that may look like, keep your eyes on Venezuela for the next few months. They're about to become the 21st century poster child for how easy it is for socialist pseudo democratic governments to collapse, and drag their citizens along with them. And unfortunately the differences between our system and theirs aren't that vast.
This article was originally published by Joshua Krause at Tess Pennington's ReadyNutrition.com
Joshua Krause was born and raised in the Bay Area. He is a writer and researcher focused on principles of self-sufficiency and liberty at Ready Nutrition. You can follow Joshua's work at our Facebook page. Joshua's website is Strange Danger
---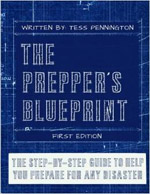 Tess Pennington is the author of The Prepper's Blueprint, a comprehensive guide that uses real-life scenarios to help you prepare for any disaster. Because a crisis rarely stops with a triggering event the aftermath can spiral, having the capacity to cripple our normal ways of life. The well-rounded, multi-layered approach outlined in the Blueprint helps you make sense of a wide array of preparedness concepts through easily digestible action items and supply lists.
Tess is also the author of the highly rated Prepper's Cookbook, which helps you to create a plan for stocking, organizing and maintaining a proper emergency food supply and includes over 300 recipes for nutritious, delicious, life-saving meals. 
Visit her web site at ReadyNutrition.com for an extensive compilation of free information on preparedness, homesteading, and healthy living.
---
Also Read:
Free Web Series: 52 Weeks to Preparedness: An Emergency Preparedness Plan For Surviving Virtually Any Disaster
Going Rogue: 15 Ways to Detach From the System
What Guns? What Gold? Prepper Tips On "Hiding Your Guns in Plain Sight"