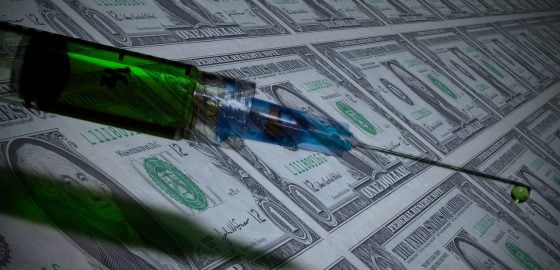 The first "high-risk" person has been vaccinated with the COVID-19 vaccine in the United Kingdom.  The elderly woman says if she can do it, "so can you."
It's here. Time's up.
"If I can do it, so can you": this 90-year-old UK grandmother has become the first person in the world to receive the Pfizer-BioNTech vaccine outside of trials https://t.co/E11VI2TNXE pic.twitter.com/3hzNL2gzzh

— South China Morning Post (@SCMPNews) December 8, 2020
Meanwhile, in the US, the FDA published a report Tuesday morning from the panel that convened yesterday to start examining the data from the Pfizer-BioNTech vaccine trials. They happily declared that there's "no reason" to delay the emergency-approval of Pfizer's vaccine. The agency is expected to release two reports analyzing the Pfizer-BioNTech vaccine ahead of Thursday's meeting, with data expected to break down the vaccine's efficacy with various age, ethnic, and other demographic groups. The agency's own scientists have prepared one report. The other report has been prepared by scientists with Pfizer and its German partner.
On Thursday, the FDA's vaccine advisory panel will discuss these materials in advance of a vote on whether to recommend authorization. They will authorize this vaccine. They have already said there's no reason not to. All countries are moving toward getting the entire global population vaccinated.
India's federal health secretary Rajesh Bhushan says the government's regulator could grant a license to some developers of COVID-19 vaccines in the next few weeks. Six vaccines, including Astra Zeneca's Covidshield, and Bharat Biotech's Covaxin, are in trial stages, Bhushan says.
Across the US, states are continuing to tighten restrictions as more than 30 million Americans are now under lockdown in and around the Los Angeles area as new "stay at home orders" and bans on walking are handed down by the tyrants who seek to own people and control their every move in the Golden State.
As these vaccines roll out, be aware of what's going on in your area. This is not a normal vaccine and most people are well aware of that. Make your own decisions.  The best advice is to turn off the TV.  It's going to be full (even more so than now) with Covid vaccine propaganda and commercials, much like earlier in the spring when the government blared their commands to stay home during popular television shows.