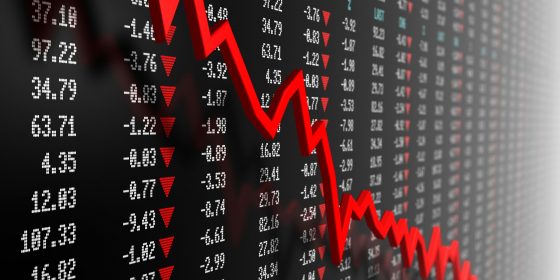 Experts have warned that an economic crash may be imminent after US stocks dropped to a two-year low on Friday.  But this time, the crash would be massive and go global.
Experts such as Peter Schiff have been warning that the US stock market is nothing but a gigantic bubble that's set to burst at any time. While the tax cuts may have delayed the inevitable, a global financial crisis could be about to unfold. The US stock market hit two-year lows Friday, prompting warnings of an economic crash from several prominent analysts. There are concerns the stock market's performance could indicate the US is set for its first recession since 2008 and a knock-on effect could cause an economic downturn across the globe.
US stock indexes ended last week with their worst performance since June 2016 after the Dow Jones industrial average futures dropped more than 200 points, the S&P 500 dropped by nine points, and Nasdaq 100 futures saw 37.75 points fall. Jason Draho, head of tactical asset allocation for the Americas at UBS, described the "growing pains" in the market to be at fault for the low performance. "Markets are likely to remain choppy as they adapt to this new growth and interest rate environment," Draho said.
But the stock markets wobbly performance at the end of last week is not the only sign to analysts that there is trouble ahead. In a separate warning, economist Allison Schrager explained that the global economy could be about to suffer a setback. Americans' lack of money in savings could indicate massive overconfidence in the market. "The economy may be booming now but there are plenty of reasons to be skeptical it will last," said Schrager. "Productivity numbers don't justify the headline growth figures. Many people think the stock market is overvalued and due for a correction. It has been eight and a half years since the last recession and the natural oscillation of the business cycle suggest we may be due for another one soon."
Speaking in January, Joachim Fels from Pimco also sounded the alarm. "The fact that the fear is gone is the main reason why we should be worried," he said. "That means most investors are now pretty fully invested and that means they will want to get out if the markets start to correct – exacerbating the downdraft."
And the deep state elite globalists responsible for the economic crash are holding no more aces up their sleeves to manipulate the markets. Speaking in Davos, the Professor of Public Policy and Professor of Economics at Harvard University Kenneth Rogoff, said: "If we have another financial crisis, there isn't even a plan A."
https://www.shtfplan.com/headline-news/economic-collapse-will-serve-one-purpose-global-governance-and-the-enslavement-of-mankind_06112016
Do not live in fear, yet be as prepared as possible for the impending crisis.