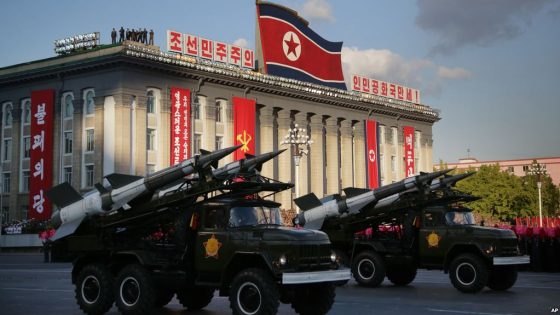 President Donald Trump's national security adviser warned that now is the time to avoid a war with North Korea. H.R. McMaster, speaking at an event for the British think tank Policy Exchange, said "time is running out" to prevent a nuclear war.
According to Newsweek, McMaster was previewing the new National Security Strategy, a document put out by each administration that shapes how it approaches foreign policy and national security issues during its tenure. Trump will unveil the full document on Monday.
McMaster's remarks come just after North Korea demonstrated a missile last month that, experts say, puts the continental United States in range. Trump and North Korean leader Kim Jong-Un have also traded verbal barbs, with Trump calling Kim "Rocket Man" and Korean government outlets referring to Trump as a "dotard." Those threats and the advances in North Korea's nuclear program have heightened tensions on the Korean Peninsula and pushed the two sides toward what experts say would be a horrific nuclear war.
"Now it's time for all nations to do more," McMaster said. The National Security Strategy document also includes details about how the administration is dealing with North Korea. McMaster said that policy is focused on the "denuclearization of the Korean Peninsula," not ousting Kim Jong-Un. That includes potential action against companies that illegally do business with North Korea, along with continued pressure on China to help curb North Korea's nuclear tests.
"North Korea's government is dependent on isolation," said Britain's national security advisor, Mark Sedwill. "Those who talk about reintegrating North Korea miss the point of that regime," Sedwill said, lacking confidence that North Korea could ever be normalized.
Another section of the strategy will focus on "cooperation with reciprocity," a phrase meant to coax U.S. allies to spend more on their own defense, a critical component of Trump's campaign rhetoric on national security.