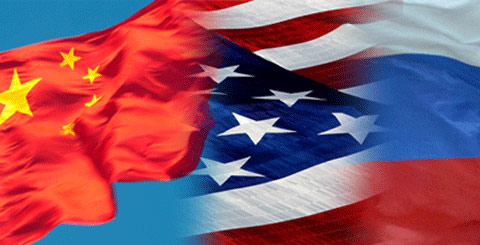 Economic tensions are tipping over into military ones.
Warships have sailed, and the rhetoric of Trump's officials has shifted dramatically from the previous era.
The larger threat to the petrodollar and the continuance of U.S. hegemony has been put face-to-face with a China gaining in power and confidence, and ready to depose American dominance. It has become bold enough to make fresh claims on territory, and the U.S. has taken it as a call to war.
How much more pressure will this situation take before it explodes into a deadly confrontation? And why is world war three suddenly back on the table?
The Trump Administration is starting off on a highly aggressive posture with China – with taboo calls to Taiwan, loose talk from President Trump (since the campaign trail) about a trade war with China, and now stern warnings from Secretary of State Tillerson about China's activities in the South China Sea.
It might come off as just a scolding, if not for the huge military assembly surrounding the region, and the unprecedented level of ICBM missile testing and genuine threats/predictions of war to come. Someone clearly means business:
via London Independent:
China has accused Donald Trump's administration of putting regional stability in East Asia at risk following remarks by the President's defense secretary that a U.S. commitment to defend Japanese territory applies to an island group that China claims.

Foreign Ministry spokesman Lu Kang has called on Trump's administration to avoid discussion of the issue and reasserted China's claim of sovereignty over the tiny uninhabited islands…

[…]

Widespread alarm over how the region could shape geopolitical tensions was raised following the revelation that Steve Bannon, the chief strategist in Trump's White House, said he believed the US would go to war with China within five to 10 years during a radio broadcast in 2016.

"They're taking their sandbars and making basically stationary aircraft carriers and putting missiles on those. They come here to the United States in front of our face—and you understand how important face is—and say it's an ancient territorial sea."
Obviously, a hot war with China, if it ever came, would a world war of catastrophic proportions. The fact that the new administration is directly pushing for it is truly unsettling.
It seems that part of the testy call with the Australian Prime Minister may have related to fresh tensions with China, as Secretary of State Rex Tillerson has vowed to stop China's activity in the South China Sea, and Australia has become something of a intermediary in attempting to calm tensions and avoid outright conflict.
via AFR.com:
[Chinese Foreign Minister Wang Yi] insisted the US and China relationship had defied all kinds of difficulties in the past 40 years …
"Any sober minded politician will recognise that there can not be conflict between China and the United States," Mr Wang told reporters in Canberra. "Both will lose and both sides cannot afford that."

[…]

Mr Wang's comments, after lengthy talks with Foreign Minister Julie Bishop in Canberra on Tuesday, follow a period of aggressive rhetoric during which new US Secretary of State Rex Tillerson threatened to stop Chinese activities on reclaimed islands in the South China Sea.

Ms Bishop said she was reassured that both the Chinese and US governments have signalled they will work together and reiterated that Australia would maintain its current neutral stance on the issue.
Perhaps President Trump is eager to make his mark, and moving quickly to arrange the playing pieces according to his wishes, but the world is a powder keg, and there are those who are far too willing to set it off.
Iran, China, Russia and the entire middle east have been caught up in the threats and risks of global conflict week after week in U.S. foreign policy, and it seems that the Trump Administration will accelerate many of those conflicts.
In addition to the cost in lives and property damage that such the wide-scale, conventional conflict would bring, it would bring the global supply chain to a nasty halt, and create shortages, price hyperinflation and deeply damage trade.
Experts have told The Independent they believe such a conflict would be catastrophic… The United States would likely win […] but even a conventional military victory would be a strategic disaster. It would set off a global economic crisis and create a potential power vacuum inside defeated China "the like of which we can't imagine".

"It would, of course, totally upend supply routes, however, and probably cause a global recession. So it would, no matter who won in terms of military outcomes, be lose-lose and cut against the logic of self interest of both the US and China."
If a conflict with China became real, became tangible, Americans would feel the repercussions in a very short span of time, even if the U.S. military won the conflict, as most experts predict.
The cost of such instability would be great to people everywhere.
Prepare as best you can; things are about to become unpredictable, and quite possibly unstable. There will be a lot of talk, but we will have to wait and watch to see if anything actually happens.
Read more:
Flashback 2011: Trump to China: "Listen You Motherf***ers…"
U.S. Warships Surround Disputed Chinese Waters, Prepared for War: "WWIII At Stake"
As Yuan Rivals Dollar, U.S. Launches Ballistic Missiles Over West Coast: "Lit Up California"
New Choice for World Currency: "Chinese Yuan Will Supersede Dollar as Top Reserve Currency"