Shocking video of a shooting in Paris that left 12 dead has emerged.
We have chosen to publish this amateur video from the streets of Paris in full and uncensored in order to show the brutality, complete lack of hesitancy, and total disregard for human life by radical Islamists.
It has been reported that the massacre took place in a gun-free area, and even the police officer who was killed appears to be unarmed.
Video via Liveleak (Disturbing Footage):

(Trouble viewing video? Watch it at LiveLeak)
Rooftop Footage:
It is believed that Europe is a hotbed of radical Islamist thought and activity with some governments giving up total control of certain areas dubbed "No-Go Zones" where non-Muslims are not allowed enter. These areas have no traditional law enforcement and operate almost like independent Islamic countries:
Many of the "no-go" zones function as microstates governed by Islamic Sharia law. Host-country authorities effectively have lost control in these areas and in many instances are unable to provide even basic public aid such as police, fire fighting and ambulance services.

The "no-go" areas are the by-product of decades of multicultural policies that have encouraged Muslim immigrants to create parallel societies and remain segregated rather than become integrated into their European host nations.

Source: Gatestone Institute
Paris has similar zones:
In France, large swaths of Muslim neighborhoods are now considered "no-go" zones by French police. At last count, there are 751 Sensitive Urban Zones (Zones Urbaines Sensibles, ZUS), as they are euphemistically called. A complete list of the ZUS can be found on a French government website, complete with satellite maps and precise street demarcations. An estimated 5 million Muslims live in the ZUS, parts of France over which the French state has lost control.

Muslim immigrants are taking control of other parts of France too. In Paris and other French cities with high Muslim populations, such as Lyons, Marseilles and Toulouse, thousands of Muslims are closing off streets and sidewalks (and by extension, are closing down local businesses and trapping non-Muslim residents in their homes and offices) to accommodate overflowing crowds for Friday prayers.
For years the French, British and other European nations have allowed their sovereignty to be dissected by groups who follow Sharia law without the regard for the laws of the land.
Today, many Europeans are likely reconsidering their position on such No-Go areas.
As well, they may be contemplating how future events like this may be prevented. The terrorists in today's Paris attack were heavily armed with semi-automatic rifles that are purportedly illegal to own in France. Yet, they still managed to get a hold of these weapons. Then, they brought the weapons to gun free zones, again illegally.
Perhaps now the French people will begin to understand why Americans prefer to be personally armed, as opposed to depending on SWAT teams to respond to such threats, oftentimes after the fact.
But, as we noted previously, even some Americans haven't yet realized that a weapon in the heads of a law abiding citizen could prove to be the only way to stop such attacks in their tracks. During the 2012 Aurora shootings not one person in the movie theater – a gun free zone – had a weapon. Twelve people were killed and another 70 were injured. A single moviegoer with a gun could have prevented much of the carnage that day.
Likewise, just one individual with a gun may have been able to minimize the attacks in Paris. At the very least, those who were attacked could have at least had a chance of defending themselves as opposed to being slaughtered like lambs.
How long before governments in supposedly free countries around the world realize that the only way to stop the actions of individuals like those who killed twelve people in Paris today is to allow peaceful, law abiding members of their societies to be armed?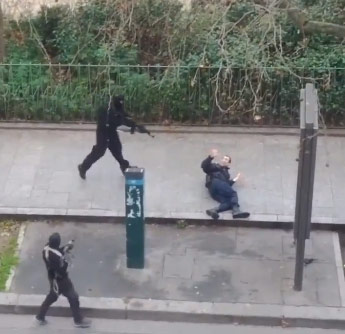 Recommended Reading:
The Citizen's Guide To Stopping Suicide Attackers: Secrets of an Israeli Counterterrorist
Surviving Armed Assaults: A Martial Artists Guide to Weapons, Street Violence, and Countervailing Force
Rapid Fire!: Tactics for High Threat, Protection and Combat Operations