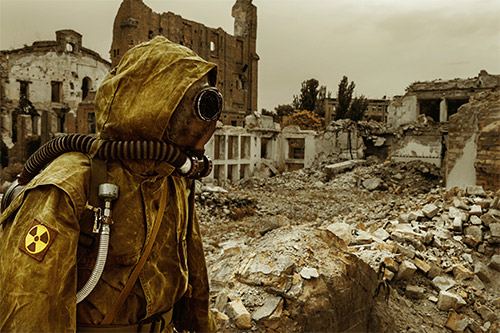 This article was written by Brandon Smith and originally published at his Alt-Market.com site.
Editor's Comment: Brandon's point here is that 2016 is spiraling out of control. It feels like we are approaching the end of an era of relative normalcy. Events are taking place that reflect a society on the brink of collapse or civil/world war. If the pressures are allowed to explode, rather than vent, and nothing gives in the way of better conditions and respect for the rights of the people, then we are reaching the tipping point of revolution. And it won't be pretty.
How many have made preparations for the off chance that the elections could dissolve into total and complete civil unrest? Hillary's health issues have proven to be a wild card event, and it is being paired with the other wild card – Trump, a bombastic outsider who no one can look away from.
What exactly will happen next in the elections, or by the time the "losing" side finishes reacting? What if Hillary drops out, or people protest Trump's win as illegitimate? What if Hillary takes office with a quarter of the country suspecting that she is already dead, too sick to make rational decisions, or criminally liable for a string of an unethical and illegal behavior for which she was given a pass?
What if the economy crashes, or terrorism becomes rampant? How far can things spin out of control? How badly can the American people fall?
Will this country break out into violence and unrest? Shame on us if it does, especially over something as theatrical and symbolic as an election. Police state violence will be the only response. The price of restored order will be a suppressed and impoverished people. Suspension of rights, etc. Be forewarned, and stay vigilant.
The World Is Turning Ugly As 2016 Winds Down
by Brandon Smith
I have to say that the negative reverberations in our current economic and political environment are becoming so strong that it is impossible for people to not feel at least some uneasiness in their gut. I imagine this is the same kind of sensation many felt from 1914 to 1918 during World War I and the terrible birth of communism, or perhaps in the early 1930s at the onset of the Great Depression and the rise of fascism. Some global changes are so disturbing that they send shockwaves through the collective unconscious before they ever hit the mainstream. People know that something is about to happen, even if they cannot yet clearly define it.
At the beginning of August in my article "2016 Will End With Economic Instability And A Trump Presidency" I stated that:
"I believe a softer downturn will begin before the election (the U.S. presidential election) takes place, most likely starting in September. This will give a boost to the Trump campaign, or at least, that is what the polls will likely say. I would also watch for some banking officials and media pundits to blame this downturn on Trump's rise in the polling data. The narrative will be that just the threat of a Trump presidency is "putting the markets on edge."
Unfortunately, it would seem so far that this prediction was correct. Currently global markets have crossed into severe volatility with a vengeance after around three months of eerie calm. Why? Well, as I warned in the same article linked above as well as numerous others since the beginning of this year, the Federal Reserve is determined to continue raising interest rates into a recessionary environment as they almost always do, and equities markets addicted to cheap debt cannot tolerate even one additional rate hike from the central bank.
So far all evidence suggests that the Fed plans to raise rates again soon; I believe at the end of this month.  The only seemingly "anti-hike" voice at the Fed so far has been board member Lael Brainard, but even her statements promote a false narrative that a America is on track to "recovery".
Many normally "dovish" members of the Fed have openly suggested that now is the time to hike.  Voting members at the Fed have been vocal about a shift in policy.  The latest example being head of the Bank of Cleveland, Loretta Mester. She argues that rates have remained "too low for too long," and rejected notions that lower rates are necessary to maintain stability.
This is the same kind of language Fed members used right before the rate hike in December 2015, the first rate hike in around a decade.  And, to add to the fervor, even JP Morgan Chase head Jamie Dimon is calling for interest rates to rise.
Get ready folks, because all the naysayers that claimed another rate hike is "impossible" are probably about to be proven wrong yet again.
My warning on an accelerating Trump campaign being blamed for weak stock markets has also come true. Already, Bloomberg is launching the meme that the idea of Hillary Clinton losing the election to Trump "because of her health" is a "landmine for vulnerable markets."
This is some incredible spin by the elitist controlled media, but again, very predictable. The globalists are setting the stage to blame the economic collapse they created on conservative movements. Clinton's "health issues" are being set up as the scapegoat for a Trump win, which conjures additional social unrest as many on the Left will argue (in the event of a Trump win) that Trump prevailed on a technicality. That is to say, the extreme Left will argue that Trump's presidency is not legitimate.
Another scenario is also possible but I think less likely — the potential for Clinton to bow out of the election due to her health, causing a rationale for a postponed election. I do not think a postponed election really serves the interests of the elites, but it would certainly trigger massive chaos if it occurred. Only in the strangest of any election year in American history could this even be thought of as a legitimate danger.
Another global indicator, oil, is tumbling yet again as all the jawboning from OPEC on a "production freeze" has failed to boost crude prices for more than a week at a time. Frankly, no one is buying the hype anymore. Those who bet on the WTI index shooting past $50 to $60 a barrel this year should have been paying more attention to alternative analysts. The only other factor that has kept oil from crashing down into the $30 range has been random inventory draws. These reports, though, are little more than a stop gap. Companies have been shifting crude to different facilities in order to create the illusion of inventory draws and higher demand. But usually within a week the reports catch up to the real supply and an inventory spike sends oil crashing down again.
Add to this the latest news that Congress has passed a bill allowing the families of 9/11 victims to sue the Saudi government for their part in the attack, and you have a recipe for a dumping of the dollar as the world's petrocurrency. Even if Obama vetoes the bill, I believe a two-thirds majority of congress will override that veto. A catastrophe in oil markets is inevitable.
Whether in oil markets or other sectors of finance and social stability, make no mistake, catastrophe is exactly what national governments are preparing for.
This is most obvious today in the European Union. The German government in their first revision of their civil defense plan since the cold war has warned the public to prepare for an unspecified event by stockpiling at least 10 days worth of food and five days worth of water. Germany is also debating the idea of placing troops on the streets to "protect against ISIS."
And Germany is not alone. French presidential candidate Nickolas Sarkozy has made some highly disturbing statements on security in a recent interview, outlining measures he believes will best protect the public from "militants." From Reuters:
France needs to get tough on militants by creating special courts and detention facilities to boost security, the country's former President Nicolas Sarkozy said in a interview published in Sunday newspaper Le Journal du Dimanche.
"Every Frenchman suspected of being linked to terrorism, because he regularly consults a jihadist website, or his behavior shows signs of radicalization or because is in close contact with radicalized people, must by preventively placed in a detention center," Sarkozy said in the interview.
Sarkozy, who announced last month his candidacy for the April 2017 presidential election, has said there is no place for "legal niceties" in the fight against terrorism.
Even in the face of Islamic extremism and terrorism, the concept of "detention facilities" where people are held without charge and without trial on the mere suspicion of being a danger to society should horrify anyone with any sense. The fact of the matter is, these violations of personal freedom and of due process are NEVER used for only one group of people. Totalitarian governments ALWAYS use one group as an excuse for the police state, then over time they expand the police state outwards to oppress everyone.
This is the kind of rhetoric that liberty movement activists in the U.S. fought against in the National Defense Authorization Act (NDAA); but it is making a resurgence in Europe and in America as well. If you think Sarkozy is a marginal example, I recommend you re-watch this interview with Gen. Wesley Clark, who argues that "radicalized people" who are disloyal to the U.S. government should be placed in internment camps. He suggests that Britain, Germany and France need to take similar measures. It would appear that they are doing just that.
Never forget that "radicalism" is an arbitrary designation, and the label can be applied to just about anyone for any reason. A trend in police state language is growing in the mainstream in the name of fighting terrorism, but the abrupt urgency in Europe is rather odd. Only a few months ago, EU leaders were using some outrageous mental gymnastics in order to avoid confronting the notion of Islamic terrorism. Now, they are suddenly concerned? Why?
I believe Europe is about to witness a catalyst for financial crisis, and they are using terrorism as an excuse to preposition martial law resources before this event takes place. They don't care about stopping ISIS, but they do care about locking down and controlling an angry citizenry in the wake of an economic downturn. If a few more terrorist attacks occur in the meantime, then hey, that only helps the elites in their efforts to pacify the public for the sake of "security."
Official preparedness warnings from Germany, for example, are of little use to the public. A supply of a mere ten days of food and five days of water is useless during any sizable crisis. But, the German government can now say that they "tried to warn people." Sarkozy's statements are the most blatant call for a police state I have yet seen from an establishment puppet politician, and this should worry people. The fact that he is being so open and honest about the end game indicates to me that a dangerous shift is imminent.
It would appear, according to EU government behavior, that whatever is about to happen globally is going to hit hardest in Europe first and then spread to the U.S. and the rest of the world. I recommend readers watch the EU very carefully over the next few months. If you have any financial or survival preparations you have been putting off, I suggest you take care of them before the end of this year. From what I see so far, geopolitically and economically the global situation is only going to become more unstable in the near term.
This article was written by Brandon Smith and originally published at his Alt-Market.com site.