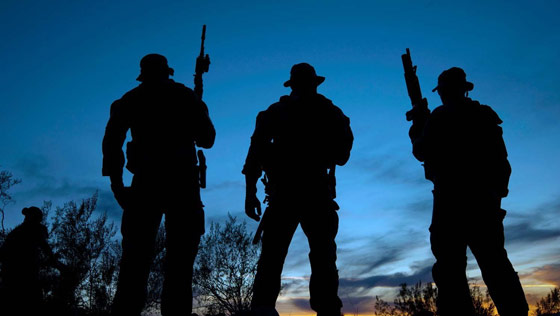 With China issuing a final warning to North Korea earlier today, and U.S. President Donald Trump keeping all options on the table as he prepares a response to continued North Korean military posturing and rhetoric, Army General Raymond A. Thomas confirmed in sworn testimony to a Congressional sub committee that special operations teams will be utilized as part of any conflict with the rogue state and would likely be sent in to secure and/or destroy North Korean nuclear facilities in the event of war:
Army Gen. Raymond A. Thomas stated in testimony to a House subcommittee that Army, Navy, and Air Force commandos are based both permanently and in rotations on the Korean peninsula in case conflict breaks out.

The special operations training and preparation is a warfighting priority, Thomas said in prepared testimony. There are currently around 8,000 special operations troops deployed in more than 80 countries.

"We are actively pursuing a training path to ensure readiness for the entire range of contingency operations in which [special operations forces], to include our exquisite [countering weapons of mass destruction] capabilities, may play a critical role," he told the subcommittee on emerging threats.

"We are looking comprehensively at our force structure and capabilities on the peninsula and across the region to maximize our support to U.S. [Pacific Command] and [U.S. Forces Korea]. This is my warfighting priority for planning and support."

…

Special forces troops would be responsible for locating and destroying North Korean nuclear weapons and missile delivery systems, such as mobile missiles. They also would seek to prevent the movement of the weapons out of the country during a conflict.

Special operations missions are said by military experts to include intelligence gathering on the location of nuclear and chemical weapons sites for targeting by bombers. They also are likely to include direct action assaults on facilities to sabotage the weapons, or to prevent the weapons from being stolen, or set off at the sites by the North Koreans.

Source: Free Beacon
In earlier reports it was noted that SEALs and other commandos could be used in a first strike to decapitate North Korean leadership at the onset of any military engagement.
The President deployed high altitude surveillance drones over North Korea earlier this week in a bid to gather intelligence about the secretive country's nuclear and military capabilities ahead of any military action.
The latest moves, coupled with recent mobilizations of Chinese, Russian and U.S. military assets suggests previous policies of patient diplomacy under President Obama and President Bush have been thrown out the window.
The world appears to be moving towards war at a feverish pace.
Related:
Top Tier Gear For Nuclear Emergencies: Gas Masks, Body Suits, Anti-Radiation Pills, More…
US Delta Force, SEAL Team 6 Prepare To Take Out Kim Jong-Un, Practice Tactical North Korea "Infiltration"
Trump's North Korea Options: Place Nukes In South Korea Or Kill Kim Jong-Un