This article was originally published by JD Heyes at Natural News under the title: Tyranny Spreads in Canada as Police Now Cover Names, Badge Numbers on Uniforms to Evade Identification as They Brutally Assault Peaceful Protesters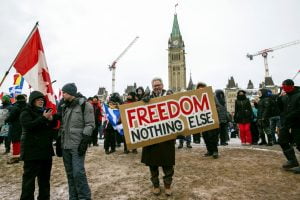 Canada has quickly devolved into a tyrannical regime under China-loving Prime Minister Justin Trudeau as the police state apparatus loyal to him adopts some very familiar techniques.
In addition to using animals — in this case, horses — to push back and trample demonstrators, Canadian police have also adopted the tactic of hiding their identities by covering their names and badge numbers, as protesters noted online.
Can someone please explain why these cops have their names & badge numbers covered? pic.twitter.com/tHF95UiwCo

— MachRedacted, a small, fringe minority (@MacRedacted) February 18, 2022
These are agents for Big Pharma pic.twitter.com/ioBITiussO

— Luke Rudkowski (@Lukewearechange) February 19, 2022
Prime Minister Justin Trudeau's response to the "Freedom Convoy" truckers is 180 degrees opposite of how he responded to ongoing Black Lives Matter violence after George Floyd's death in May 2020; while demonstrators during that period were ordered dispersed after smashing windows and setting fires, the protests continued and Trudeau never once thought about invoking the Emergencies Act as he did last week to 'deal with' truckers he called "fringe" and likened to Nazis.
Last week during a debate over his invoking of the act, Trudeau insulted truckers by claiming they were standing with 'swastika wavers' and against Canada, which led to MP Melissa Lantsman, a Jewish member of the opposition Conservative Party, to demand he apologize.
"Conservative Party members can stand with people who wave swastikas, they can stand with people who wave the confederate flag," Trudeau said in response to Lantsman's demand he explain his reason for invoking the act. "We will choose to stand with Canadians who deserve to be able to get to their jobs and get their lives back. These illegal protests need to stop and they will."
Trudeau's comments sparked uproar in the house and forced the Speaker of the House to reprimand him and others, reminding them of rules against using 'inflammatory' language in Parliament during the debates.
After being reprimanded, Trudeau refused to apologize and again repeated that the blockades were illegal, and the measures to repress the protests were necessary.  
Lantsman said in the interview on Wednesday night that Trudeau was showing his 'true colors' with his denigrating remark.
"I sit there and watch him divide and wedge and stigmatize Canadians every single day, and today the rest of Canada saw a G7 prime minister go after a Jewish member of Parliament, and then walk away and not apologize," she told Fox News host Laura Ingraham.
"When you accuse somebody of standing with a swastika, you get an influx of people calling you Nazi, and that's not okay," said Lantsman, who is descended from Holocaust survivors adding that her office received a flood of complaints from Canadians falsely accusing her of supporting Nazism.
"And [Trudeau] is driving that — he's been driving division in this country throughout since the protests started and before the protests started, for his political gain," she continued.
"I think his leadership is in trouble. The country's in trouble and he's lost control of the situation. We've got an urban-rural divide. We've got an east-west divide and that's being wedged by the prime minister," Lantsman added.
Other images of the totalitarianism of Canadian authorities under Trudeau's direction were also posted online.
I am not able to eat anything from last 24 hours after watching this video. how can @JustinTrudeau attack his own country people. Justin Converted beautiful Canada into Banana Republic. #TrudeauDictatorshipMustGo pic.twitter.com/WWwgMN4OsV

— Tajinder Pal Singh Bagga (@TajinderBagga) February 19, 2022
Trudeau is stamping out freedom. One trampled protester at a time.

Remember Ottawa. pic.twitter.com/dkA9GRV2A5

— Ian Miles Cheong (@stillgray) February 19, 2022
The tyranny led a GOP freshman lawmaker from New Mexico to propose legislation offering Canadian truckers temporary asylum.
"Justin Trudeau's heavy-handed crackdown against peaceful protesters in Canada is not the action of a Western Democracy, but that of an authoritarian regime like Venezuela," Rep. Yvette Herrell tweeted Saturday along with a video clip of Fox News host Tucker Carlson discussing the situation in Canada.
"Just as we provide asylum for political prisoners, we should do the same for truckers who have been subjected to violence, had their property confiscated, and their bank accounts frozen by a government that is quickly becoming the embarrassment of the free world," she continued.
"I am introducing legislation that would temporarily grant asylum to innocent Canadian protesters who are being persecuted by their own government. We cannot be silent as our neighbors to the north are treated so badly," the New Mexico Republican added.