UPDATE: April 5, 2011 14:25 CDT
…Japanese still not providing clear radiation readings.
…Unsafe radiation levels in Japan confirmed in drinking water, soil, food…. Japanese officials dump thousands of tons of water into sea; say it will be safe through dilution
…Apology money: TEPCO gives $240,000 to each affected town… hopes it helps (link)
…American Red Cross took in $1 billion in Japan Tsunami relief donations….none distributed (link)
…EPA pulls 8 of 18 West coast air monitoring stations offline…"undergoing quality review" due to "abnormal" readings (link)
…United States government moving quickly to increase the amounts of radiation the population can safely absorb by raising the safe zone for exposure to levels (link)
…Flashback: Soviet authorities raise acceptable "safe" levels of radiation after Chernobyl disaster (link to documentary: The Battle of Chernobyl)
…US Environmental Protection Agency: we do not expect to see radiation at harmful levels reaching the U.S. from damaged Japanese nuclear power plants (link)
…Flashback: French government completely denies radiation cloud hovering over Europe for weeks and months following Chernobyl (link to documentary: The Battle of Chernobyl)
…No Need to Worry: FEMA, DHS, White House, and [for the most part] Mainstream Media remain silent on specifics and potential dangers to US residents (link)

…The Intel Hub Update: Concentrated radiation cloud from Japan projected to reach Northwest US by April 6, 2011. Sourced via Department of Atmospheric and Climate Research (ATMOS) at the Norwegian Institute for Air Research (NILU):
…How much plutonium is too much? Brief, informative and dire overview of Japan crisis, water contamination, plutonium soil contamination, nuclear core update:
…A study of government propaganda, lies, and downplaying crisis severity: Watch: The Battle of Chernobyl (90 minutes)
UPDATE: March 23, 2011 9:30 CDT
…While Libya has taken the headlines as of late, Japan still in peril…
..9,408 bodies collected to date, 328 more than yesterday.  The number of people listed as missing has increased to 14,716, an increase of 1,155 from yesterday's total of 13,561…Death toll rising daily
…At least 350,000 Homeless
…Getting worse: Radiation levels in Japan are rapidly rising… Levels 1600 times higher than normal 20km from powerplant… We have to assume Japan will have a long-term issue…The Intel Hub Reports:
…Tokyo water supply: "Officials say levels of radioactive iodine in some city tap water is two times the recommended limit for infants." (Link)
…Officials says water remains safe to drink, bathe in for adults…
…Fukushima Governor: "avoid eating spinach, cabbage, broccoli, cauliflower and other locally-grown leafy vegetables." (link)
…Desperation: Food, Water, Fuel, Electricity Run Short In Japan
…At least 31 large Japanese companies have closed 150 or more offices, plants and facilities temporarily or permanently…Canon (8 facilities), Hitachi (7), Honda (6), Kirin (2), Mazda (4), Nikon (4), Nissan(6), Panasonic(3), Sony(8)…more closures
…Economic cost of disasters projected to exceed $300 billion
…Large scale, concerted intervention: G7 intervenes in currency markets to prevent Yen strengthening and hit to Japanese economy
…Official report forecasts a small decline in GDP. Says Japan's economy will grow by 1% this year
…World Bank's chief economist says "Japan's growth will return to normal "very soon" as reconstruction work starts"
…Central Bank of Japan floods domestic banks with a record amounts of cash…
…Nikkei 225 bounces back from initial collapse…still down 1000 points
UPDATE: March 16, 2011 11:00 CST
…Potassium iodide prices go through the roof… Bidders drive prices to over $200 a pack! (link)
…Desperation: Officials us anti-riot water cannon to try and cool spent nuclear fuel (link)
…180 workers, rotating in groups of 50, are working on reactors…physicist calls it a suicide mission
…We're very close now to the point of no return
…Tokyo radiation levels 20 times higher than normal…no serious health effects (link)
…Russia's Nuclear Chief warns all six reactors could meltdown, but no nuclear explosion will result (link)
…US Military Shuts Down Portion of Internet on '*.mil' computer systems to open up bandwidth for emergency response…high traffic sites like Yahoo.com, Amazon.com, eBay.com not available. (link)
…radiation reaches Alaska (link)
UPDATE: March 16, 2011 01:45 CST
…Japanese officials suspend emergency operations at Fukushima facility because of high radiation levels
…International Atomic Energy Agency: dose rates at reactors 3 and 4 up to 400 millisieverts-per-hour, equivalent to about 2000 chest x-rays per hour (IAEA Website – site may be down due to extremely high traffic volume)
…Workers evacuated to safe area
…Japan's Chief Cabinet Minister says that they cannot "rule out the possibility of a meltdown at all three troubled reactors at the plant" (link)
…US Military said to have been asked to assist. No details provided.
…Japan's ambassador to international organizations requests assessment team from IAEA
…What happens next?
…Jacqueline Williams, program director for radiation medicine at the University of Rochester, says the chance for a radiation plume reaching US is "close to zero" (link)
…scientist at India's Department of Atomic Energy says "10 percent probability" of worst-case complete meltdown and radiation exposure (link)
…Japan's Nikkei 225, which lost upwards of 2000 points since Thursday of last week, recovers 500 points (5.68%) on Wednesday
…Europe not convinced as markets tumble.
UPDATE: March 15, 2011 11:45 CST
…Japanese stock market down 2000 points in less than a week.
…World financial markets in panic – commodities, stocks, precious metals all down significantly in single day trading
…situation in Japan is escalating
…Over half a million evacuated. Prime Minister of Japan urges residents within 19 miles of reactors to flee or bug in
…Princeton Physicist: "It's way past Three Mile Island already."
…Tokyo radiation levels rising (200 miles from reactor site)… Live Geiger Counter
…Radiation levels around Japanese cities in real time (Link) *Note, due to an extremely large volume of traffic, this web site may not be accessible.*
…Secondary source: Latest real-time radiation level screen capture (source):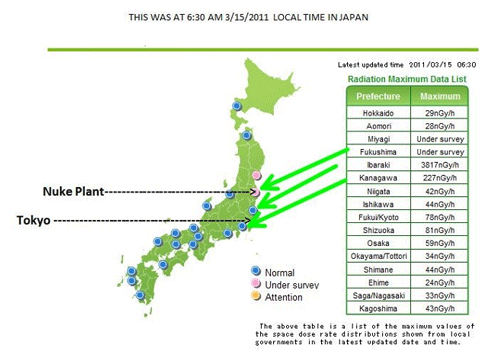 …While earlier posted fallout map showed innaccurate "RAD" level count, wind patterns remain intact… Radiation set to cross Pacific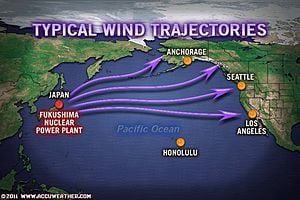 …Nuclear Regulatory Commission spokesman David McIntyre: "Right now it's quite possible that there could be some radiation floating over the United States"
…Radiation threatens California agricultural region (Map)
…Perspective on Radiation Levels:
Here's a chart showing the range of radiation levels in milli sieverts (mSv). Currently up to 400mSv per hour are being recorded in the immediate vicinity of Fukushima. Remember, although these figures may suggest that the level of radiation being recorded at Fukushima is not extremely high, the danger is constant exposure over a period of time. For this reason, people within the 20km evacuation zone are at high risk of serious harm.

7,000-10,000mSv " Person dies from radiation poisoning. (Full body exposure).
1,000mSv " Nausea and vomiting (Full body exposure).
500mSv " Decrease of lymphocytes in peripheral blood (white blood cells that defend your body) (Full body exposure).
200mSv " No clinical conditions confirmed below this number
10mSv " 1 year's worth of natural radiation (Brazil)
6.9mSv " CT scan
2.4mSv " 1 year's worth of natural radiation (world average)
1mSv " Limit of one's year's exposure to non-natural radiation (excluding medical examinations)
0.6mSv " Stomach X-ray
0.2mSv " A return air trip from Tokyo to New York
0.05mSv " Chest X-ray (or the level of radiation expected around a nuclear power plant – in practice it is much lower than this)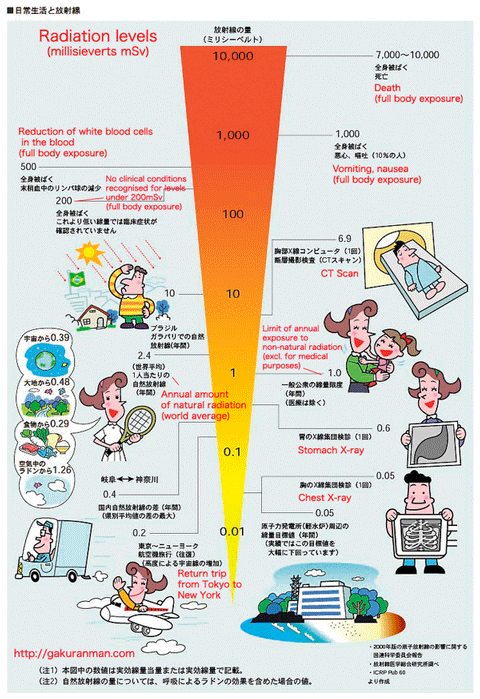 …more updates to come as information becomes available
UPDATE: March 12, 2011 15:30 CST
…Japanese officials say nuclear disaster averted; but new reactor is now in danger
…Millions currently without power, gas
…Report from Mito, Japan:
In Mito, another town in the area, long lines formed outside a damaged supermarket as hundreds waited for medicine, water and other supplies. Supplies ran low as people stocked up, not knowing how long it would take for fresh goods to arrive.

"All the shops are closed, this is one of the few still open. So I came to buy and stock up on diapers, drinking water and food," Kunio Iwatsuki, 68, told Reuters.
…Tour of grocery store in earthquake/Tsunami stricken area – Shelves just about empty:
…Grocery store in Tokyo – supplies of basic goods, non-perishables dwindling:
UPDATE: March 12, 2011 12:06 CST
…Status of nuclear plant is unconfirmed… Reports vary… some suggest plant has melted down… others suggest plant is intact
…Tens of thousands missing in Japan
…Thousands being evacuated in potential nuke fallout zone… 12 mile radius
…Explosion in building housing reactors (video)
…Chernobyl-like meltdown possible (video)
…West coast residents on alert in the event of a nuclear meltdown
…Wind may carry radiation across Pacific to West coast of North America…. 180 Hour Wind Forecast Model
…Unofficial fallout map (Note that this map has not yet been legitimately sourced, thus the estimated "Rad" levels are as of yet unconfirmed, though the wind patterns match those of the 180 hour forecast above):
***This Nuclear Fallout Map below has been identified as a hoax. As mentioned in our original posting, the source was not confirmed. We chose to publish this map to demonstrate the fallout pattern in the event high levels of radiation were released in Japan. ****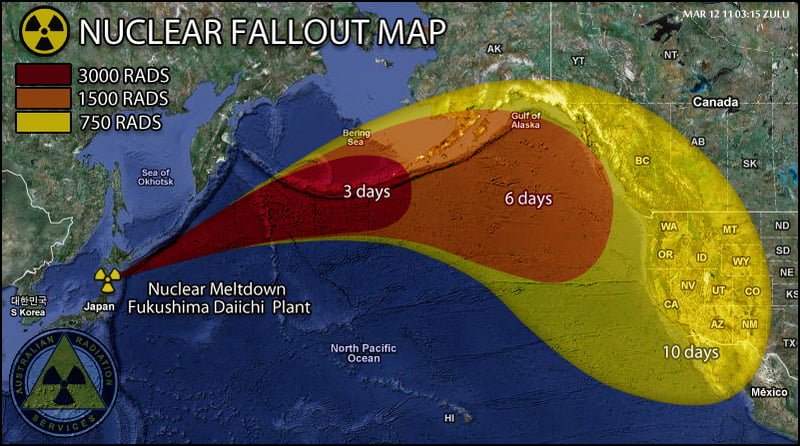 …As of yet, the estimates for radiation release levels in the event of meltdown as measured in Rads/Greys is unknown, therefore Rem/Microrem biologically effective doses cannot be measured accurately…
…radiation level outside the reactor became elevated to 1,015 microsievert—the equivalent of being exposed to the maximum allowable level for a full year in a single day. The level has since come down sharply.
…Survival / Alternative News forums go ballistic
…General Radiation Absorption ESTIMATES (source):
0-50 rads – No obvious short-term effects
80-120 rads – You have a 10% chance of vomiting and experiencing nausia for a few days
130 -170 rads – You have a 25% chance of vomiting and contracting other symptoms
180-220 rads – You have a 50% chance of vomiting and having other severe physical effects
270-330 rads – 20% chance of death in 6 weeks, or you will recover in a few months.
400-500 rads – 50% chance of death
550-750 rads – Nausia within a few hours ; no survivors
Greater than 1000 rads – immediate incapacitation and death within a week or less.
…Japanese emergency officials are planning to distribute iodine to those in nuclear radiation zones:
Japanese authorities are making plans to distribute stable iodine, a treatment to prevent radiation poisoning, to residents near two damaged nuclear plants, the International Atomic Energy Agency says.
…FDA has historically recommended Potassium Iodide (KI) within 3 – 4 hours of radiation exposure
…Related SHTFplan articles:
The Effects of Nuclear Weapons
UPDATE: March 11, 2011 19:45 CST
…88,000 Reported Missing, Hundreds dead
UPDATE: March 11, 2011 17:00 CST
…California: 1 Confirmed Dead, 2 Swept out to sea as they watched incoming Tsunami
…Oregon: 4 Swept out to sea, rescued by Coast Guard
UPDATE: March 11, 2011 16:30 CST
…Reports that Fukushima nuclear reactor is at 2.1 times normal pressure
…Radiation reportedly at 1000 times normal and rising; no evacuations of plant or surrounding areas as of yet.
The following just released video from PBS Newshour documents just how powerful the Japanese Tsunami was. It completely demolishes an entire village in under a minute:
The Sakurajima Volcano on Southern Tip of Japan has begun erupting:
ORIGINAL STORY POSTED March 11, 2011 09:00 CST:
…An estimated 8.9 magnitude earthquake off the east coast of Japan sent Tsunamis across the Pacific, striking Japan with waves reportedly as high as 33 feet.
…Other Southeast nations have also been struck.
…Hawaii was inundated with a Tsunami earlier this morning.
…Oregon closes schools…California on alert…expect waves potentially as high as 5 feet around 11am EST
…Canada on alert
Videos from Japan
Massive Tsunami wave races inland…tons of debris…burning fires atop waves…boats, cars, buildings uprooted:
Tsunami overwhelms Japan port city:
Tsunami causes whirpool:
Japan Tsunami: Cars, Debris thrown around by water like children's toys:
Tsunami Reaches Hawaii:
Wave's reportedly not unusually high. Officials warn waves may get as high as 6 feet:
The scene at a local grocery store in Hawaii as residents anticipate the Tsunami: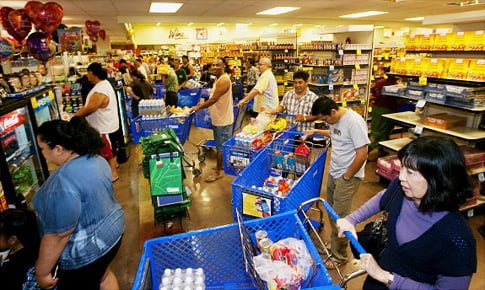 Tsunami in Open Sea – Headed towards other south east Asian countries…Almost all of Pacific Basin on alert: