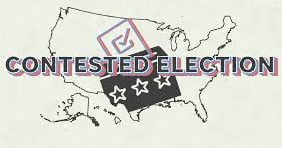 Rudy Giuliani, one of President Donald Trump's personal lawyers, alleged on November 11 that roughly 650,000 unlawful ballots were cast in Philadelphia and Pittsburgh, Pennsylvania. Giuliani told Fox News' Maria Bartiromo on Sunday that the lawsuits being filed by Trump's reelection campaign might show that as many as 900,000 invalid ballots were cast in the battleground state.
Speaking with Fox Business' Lou Dobbs, Giuliani claimed that "almost none" of the hundreds of thousands of ballots were observed by Republican poll watchers. State election law requires the presence of poll watchers from all parties, according to a report by ZeroHedge.
"What's being said in the mass media, that we have no evidence, is a complete, absolute lie, just like they've been lying for years," Guiliani said. 
On Monday, Governor Tom Wolf's office said in a statement that ballot watchers from all parties have had observers throughout the process and that "any insinuation otherwise is a lie." A few days earlier, Giuliani said that the Trump campaign may have sufficient evidence to change the election results in the state of Pennsylvania.
According to an unofficial vote count from the Pennsylvania Department of State, Biden has received 3.35 million votes to Trump's 3.31 million votes. Percentage-wise, Biden has 49.7 percent, compared to Trump's 49.1 percent.
Pennsylvania is going to fight every single attempt to disenfranchise voters," the governor's office added. "We will protect this election and the democratic process. Pennsylvania will count every vote, and we will protect the count of every vote."

Giuliani said during a Fox News interview on Sunday that the lawsuits being filed by the Trump campaign might reveal up to 900,000 invalid ballots cast across the entire state of Pennsylvania. He didn't make clear on Wednesday whether that statewide figure would be affected by the count he mentioned for Philadelphia and Pittsburgh by themselves.

The Associated Press (mainstream media) declared former Vice President Joe Biden the victor of the presidential election on Saturday. The Trump campaign insists that the call has been premature. –Washington Examiner
Real Clear Politics: "The Media Should NOT Have Called This Election!"