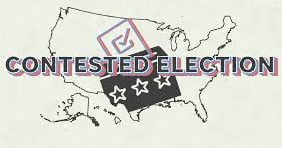 Information from Real Clear Politics declaring that the mainstream media should not have called the election for Joe Biden is being buried, while they whine about Donald Trump's refusal to concede. There's some very interesting information to be made aware of.
President Trump is contesting the reported results in those states where the race is close, and the conduct of election officials and the processes used appear suspicious. He is clearly within his rights to contest the results; his supporters generally want him to do so. After all, Trump was winning by wide margins until the media decided he wasn't…
If you would like to see Real Clear Politics live election map for yourself, please click here. Biden is still below the 270 electoral votes needed to win and several states are too close to call.
This move by the media was one to foster division, and that's ovbious. Calling the race for Bden means there's no trust from those on the right that elections were fair or that Biden actually won.  If this goes back to Trump, the left will lose their mids. There is no unity now at this point, no matter what Biden says.
Unity is much less likely, however, when the media simply declares a winner before the matter is resolved. In 2012, many Republicans felt disappointed when Mitt Romney lost to President Obama. Very few felt cheated. That will not be the case in 2020 if the current president's supporters believe that the media preempted the official process so as to disparage or prevent a full investigation of the president's claims. –Real Clear Politics
This is a tactic to divide and deceive using the left vs. right paradigm that is clearly keeping the masses from realized who is really in control and enslavin them.
Again…any conversation about national elections that does NOT include the control that bankers and corporations have over politicians in Washington's District of criminals is, at best FANTASY and at worst DISHONESTY. Bankers control both PUPPETS and both PARTIES. Banksters want us distracted, deceived and divided so that we don't bring them to justice. –Brian, Higgh Impact TV
The New York Times exacerbated this problem when it announced in an odd Election Day tweet, later withdrawn, that "the role of declaring the winner of a presidential election in the U.S. falls to the news media." Of course, it does not. That responsibility falls on Congress. But that tweet told the president's supporters all they needed to know about the media's intent, which is to deceive and divide.
If this election swings back to Donald Trump, then brace yourself. The left will not act rationally after the media declared their puppet the new master. Be safe. Stay aware and alert.  This could get interesting.