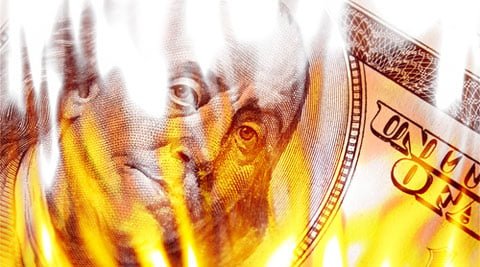 The demise of the dollar and the collapse of the economy could impact us in a big way during 2017, or in the near future.
For better or worse, the age of Trump could soon become synonymous with financial crisis on a scale that has never before been seen.
The system is looking for a scapegoat, for someone to blame, as a massive debt bubble – across several industries – threatens to burst, and a host of other systemic financial problems threaten to collapse down upon us.
via the Silver Doctors:
Jeff Berwick from Dollar Vigilante joins Silver Doctors with a word of warning. A Trump presidency will bring with it an economic crisis and collapse of the U.S. dollar, Berwick says.

Is there a way to prevent collapse? Berwick is concerned we are past the point of no return. Regardless of who runs the U.S., an economic crisis is coming, he says. Stay tuned to hear Berwick's perspective on how gold, silver, and bitcoin may perform in the coming crisis.
Trump to Collapse the Dollar?: Jeff Berwick
As SGT Report notes, the heavy-handed controls on cash are part of this game, and a very strong indicator that the powers that be are clamping down, and won't be satisfied until there is total control over individuals who will be forced onto the digital, cashless grid that will bring surveillance, fees and limits into every transaction.
via SGT Report:
It's becoming increasingly clear that the move to ban cash is going global. What started with Modi in India is now moving to Australia and Spain, and if people don't revolt en masse and soon, the passivity of these populations with embolden the Federal Reserve and bankers to ban cash in the United States. And while the tyranny against cash only grows, the global bond bubble is beginning to pop – with many experts predicting total systemic collapse in 2017, and possibly as soon as January.
Banning Cash & THE GREAT CRASH OF 2017

As SHTF has noted before, there is reason to believe that the bankers have chosen Trump as a vehicle of their own destruction.
Time will tell if this is the dark direction these overlords intend for America to go in.
Read more:
Trump About to Preside Over New Global Financial Crisis: "Not His Fault, Merely His Misfortune"
"Fed Risks Triggering Panic and Turmoil": World Bank Warns Against Raising Rates
The Federal Reserve Has Unleashed a "Virus Of Radical Monetary Policy"… and There's No Going Back
Oil Endgame? Pushing Point Where "Exporters No Longer Able to Fund Their Welfare States"