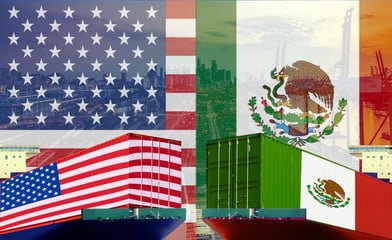 Mexico is exploring ways to retaliate against the United States for taking the trade war south of the border. President Donald Trump isn't content with the punishment levied on the American consumer just yet, so he announced the 5% tariffs on Mexico will take effect on June 10.
Not only would the tariffs increase the prices of vegetables in the U.S., but some reports say up to 400,000 jobs are at stake as well. Wasn't Trump's goal to bring work and prosperity to the U.S.? I guess that means through increased costs of goods and lost jobs. These trade wars have never made economic sense and the U.S. is setting itself up for failure. The 5% tariffs on Mexican goods will especially hit Texas jobs hard, according to a report by CNBC.
And it will get worse as it goes along. Trump has also said he'll be rising the tariffs by another 5 percent per month until October unless Mexico stops all illegal migration into the United States. That will be a total of 25% tariff on Mexican imports. Congressional Republicans have begun discussing whether they may have to vote to block President Trump's planned new tariffs on Mexico to prevent an imminent economic meltdown, according to The Washington Post.
"We have a lot of members who are very concerned, I think, about where this is headed," said Senate Majority Whip John Thune (R-S.D.). Thune added that if the tariff standoff continues, "Congress is going to want to probably be heard from" in terms of trying to limit Trump's tariff authority.
https://www.shtfplan.com/headline-news/food-prices-to-soar-thanks-to-the-trade-wars-tariffs_05092019
Back at the beginning of May, SHTFPlan detailed how a proposed tomato tariff could affect food prices and amplify the food crisis that's already underway.
The perhaps unintended consequences of the Trump Administration's trade war on China and other countries will be rising food prices for the American consumer. Food could also become scarcer as it becomes more expensive to move it around globally.

For example, fresh tomatoes imported from Mexico are about to become scarcer and pricier thanks to the Trump administration's withdrawal from the Tomato Suspension Agreement with Mexico. But the real problem is the imposition of a 17.5 percent tariff (tax on the American consumer) on fresh Mexican tomatoes, according to researchers at Arizona State University, as reported by the Brownsville Herald. -SHTFPlan
This is a real problem, and we are trying to get the word out.  Prepare yourselves.  Stock up on food now.
"It's a move that hits shoppers in the wallet," Clarke said. "As a result of this decision and the establishment of tariffs on fresh tomato imports from Mexico, U.S. consumers will face higher prices on popular tomato varieties." This is all a part of the upcoming food crisis problem we've been warning everyone about from the beginning.  Facing bankruptcies and flooding, U.S. farmers are going to have to work hard to keep up with the demand. The only logical result: those who can afford to eat will get to. All of these additional costs will be passed on to the American public; 78% of which already live paycheck to paycheck. -SHTFPlan
These trade wars will never punish foreign governments.  It's been known from the beginning. The basic and innate laws of economics clearly tell us that the American consumer is taking the lashes here, and it doesn't look like it will ease up any time soon.