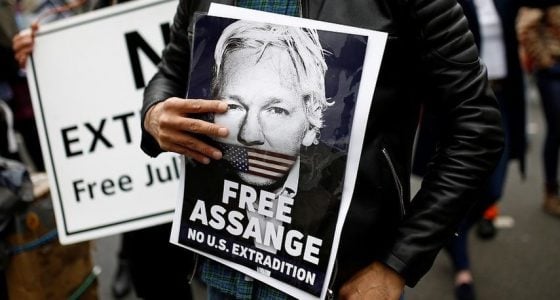 There is still some integrity in the human race.  Julian Assange was offered a pardon from President Donald Trump in exchange for giving up the source of the Democratic National Convention emails that he leaked.  Assange declined the offer refusing to throw his source under the bus.
Assange's defense revealed the pardon deal to a court in London on Friday, where the WikiLeaks founder is currently fighting extradition to the United States. Should he lose, he will be tried for espionage offenses and could face 175 years behind bars, according to a report by RT. 
Assange has literally declined the offer to stop the brutal torture he's enduring in London in order to protect his source. Defense lawyer Jennifer Robinson told the court that former US Rep. Dana Rohrabacher and another Trump campaign associate, Charles Johnson, offered a pardon if Assange were to reveal the source of the emails, which are widely considered to have helped Trump win the 2016 presidential election.
"Rohrabacher proposed a 'win-win' situation," Robinson said.

"Assange can get 'get on with his life' – a pardon in exchange for information about the source."

"Information from Mr Assange about the source of the DNC leaks would be of value to Mr. Trump," she added, paraphrasing Rohrabacher and Johnson. –RT. 
Ron Paul Interviews Julian Assange: "Going After Wikileaks Because They Humiliated the CIA"

The source of the Democratic National Committee emails remains a mystery, however, there is an abundance of evidence to suggest it was Seth Rich who was mysteriously murdered.  Opponents of both Assange and Trump have pinned the blame on "Russian hackers", yet Assange himself has gone on record as saying that Russia was not the source.

The espionage charges against Assange stem from WikiLeaks' publication in 2010 of a tranche of documents revealing U.S. war crimes in Afghanistan and Iraq. The documents were leaked by former soldier Chelsea Manning, who was imprisoned from 2010 until her sentence was commuted in 2017.

A New Kind of Tyranny: The Global State's War on Those Who Speak Truth to Power

[DISPLAY_ULTIMATE_SOCIAL_ICONS]