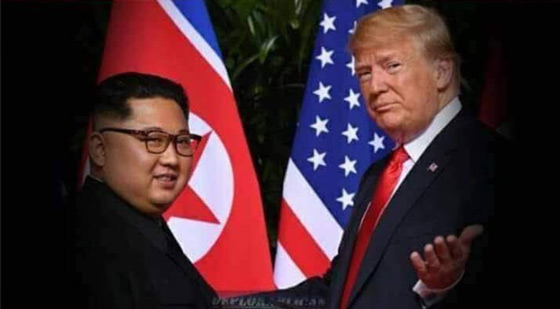 Following what appears to be a successful first meeting with North Korean leader Kim Jong Un, U.S. President Donald Trump has been nominated for the Nobel Peace Prize by two Norwegian lawmakers. Though the deadline for this year's prize has already passed, the nomination should make Trump eligible for the prize in 2019.
Fortune writes:
U.S. President Donald Trump was nominated for the Nobel Peace Prize for his work in reaching an agreement to work toward de-nuclearization of the Korean peninsula.

Nominations for the world's most coveted prize are open to lawmakers, academics and researchers from around the world. The Nobel Committee in Oslo typically receives hundreds of nominations each year, and past candidates have also included Russian President Vladimir Putin and Former Cuban leader Fidel Castro. A record 330 people were nominated this year.
While supporters of the President are praising the nomination as evidence of Trump's good will and desire to maintain stability and world peace on the Korean Peninsula, not everyone agrees.
Leading left-leaning web site The Huffington Post highlighted in a headline that the lawmakers who voted for Trump were part of Norway's far right:

When asked what he thinks of the Nobel Prize, Trump responded with, "The prize I want is victory for the world":
Does Pres. Trump deserve the Nobel Prize? "Everyone thinks so, but I would never say it," Pres. Trump says.

"The prize I want is victory for the world." https://t.co/O9IQkjFsOH pic.twitter.com/sQ0UtuKNH4

— This Week (@ThisWeekABC) May 9, 2018
The Twitter-verse immediately pounced on the news with varying opinions:
Everyone doesn't think so….his huge ego thinks so, his misguided bigoted followers think so, but not anyone who has paid attention to his racism tinged with sexism

— Gemma Grossi (@grossi_gemma) May 9, 2018
Perhaps Trump will get the Nobel AND impeached in the same year…

— Steve Vickman (@s_vickman) May 10, 2018
That's nice but he should reject it bc it's basically a war criminal prize now. They gave obama one and Al Qaeda was nominated

— alisa♡#ReconnectJulian (@AlisaaGail) June 13, 2018
"The Norwegian lawmakers who nominated Trump were Christian Tybring-Gjedde and Per-Willy Amundsen of the country's right-leaning Progress Party, which advocates for limited immigration and shrinking the size of government."

— Plt (@PEEOPLESUCK) June 13, 2018
Uncharted ground: can you actually receive a nobel peace prize from a jail cell #cohenflipped #eatadick

— Tonez Harvey (@tonez_harvey) June 13, 2018
"I think I just heard heads exploding at CNN…" https://t.co/genNZAjO1D

— Conservative Chick (@NaughtyBeyotch) June 13, 2018
— Wonder Woman ? (@FeliciaKCCO) June 13, 2018
After Obama's, it's more like a participation award. Thanks for showing up.

— Irredeemable Δ2 (@ewcdoubleD) June 13, 2018
This will put Rachel Maddow in the Fruit Loop Motel https://t.co/zx7Vixi9a7

— warroom (@warroom) June 13, 2018
Great news but they will never give to him. ?

— Tina Sherman (@tina_sherman19) June 13, 2018
#1. Candidates are never announced ahead of time, so this is either a lie or they broke the rules by announcing.
#2. By December 2019 the NK meeting won't even be a blip in the history books.
#3. 8 months of negotiations & approx. 300 other candidates = he doesn't have a chance.

— ☆☆☆BreThePeople☆☆☆ (@BrendaByDesign) June 13, 2018
Oh no. They did the same thing to Obama, and he turned out to be pure shit.

— LessYouKnow (@GrippleDeGrap) June 13, 2018
According to its website, the Nobel Peace Prize is given to the person "who shall have done the most or the best work for fraternity between nations, the abolition or reduction of standing armies and for the holding and promotion of peace congresses."