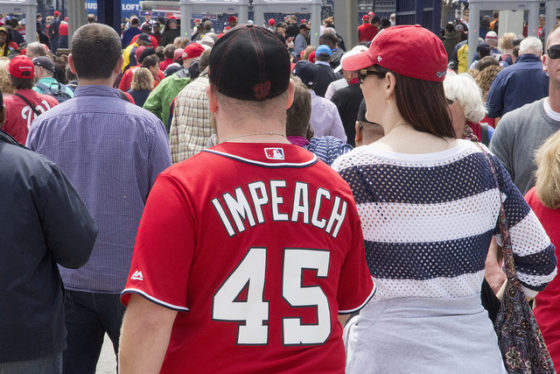 President Donald Trump's fans have started yet another boycott, and this time, it's Walmart in the crosshairs.  The store is under fire for putting "impeach 45" shirts for sale on their website, and conservatives are not happy about it.
Outrage over the shirts set Twitter on fire with emotional responses and demands for a boycott of the retail giant. Ryan Fournier, chairman of the group Students for Trump, was one of the first to discover Walmart was selling the clothing item, according to the International Business Times. He asked the company in a tweet, "What kind of message are you trying to send?"
.@walmart why are you selling Impeach 45 baby clothes on your website?????

What kind of message are you trying to send? https://t.co/PwI4nCVAZx

— Ryan Fournier (@RyanAFournier) July 3, 2018
Many have accused Wal-Mart of joining the "alt-left" or the far left because of the shirts.
Looks like @Walmart is looking to join the far left and maybe needs good ol #boycottwalmart to make them think a little! https://t.co/aIMpv9D3Rc

— David Wright (@DavidMichWright) July 3, 2018
Calls to boycott are nothing new from conservatives. Surely everyone remembers the NFL debacle last year. It sure seems like the new target, however, is Walmart. "I didn't want to believe it. So I searched myself," another user wrote. "This is despicable. All American Walmart? Im (sic) out!!!"
Old Glory is the company that sells the "Impeach 45" apparel and it's not the only one. A quick search on Walmart.com revealed three other companies selling Trump impeachment merchandise. But to be fair, a search for "Make America Great Again" apparel yielded plenty of hats, T-shirt,s and coffee mugs on the same website.  Some Twitter useres played Devil's Advocate and pointed this out to those who were upset.
They are fanning flames of burning money. They have products for conservatives and liberals to buy, it's a beautiful equal fair system Walmart has lol. Which more stores would follow suit

— Wyatt (@_wyattgh) July 3, 2018
It really is just capitalism in action.  As long as there are two sides fighting over who gets to control everyone else, a good business will find ways to capitalize on the feelings of both democrats and republicans.  Fox News reported that Walmart caused a stir back in November after a shirt design that read "Rope. Tree. Journalist. SOME ASSEMBLY REQUIRED" was listed on its website through an outside company. Teespring had their shirts pulled off the Walmart website days later.  But you can still buy the shirt here. 
It seems like a reach to be angry that Walmart, a business in a country run on corporatism, is attempting to make money on both right and left statists. But feelings trump actual logic and business sense anymore, and until we add critical thinking back to the curriculum, people will make snap judgments based solely on their first and immediate emotional response while using cognitive dissonance to attempt to justify the outburst.