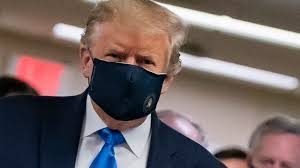 Donald Trump, now championing face masks as "patriotic" has also been helping promote the official coronavirus narrative.  He now areas with the mainstream media, that the pandemic "probably, unfortunately," get worse before it gets better.
Remember when Trump said the churches would be open and full on Easter, which was back in April? Well, he seems to be now aligning with the mainstream media's fear-mongering and promotion of mask-wearing. "We're asking everybody that when are you are not able to socially distance, wear a mask," Trump said, a day after tweeting a picture of himself wearing one. "Whether you like the mask or not, they have an impact," he said.
He is also backing a vaccine, and with the military's help, will roll it out. He says that's the priority.
Trump Pushes Mask Wearing Propaganda: It's "Patriotic"
Are Face Masks & COVID Rituals Occultist Symbols For Submission?
Getting a vaccine is a "top priority" as he appeared at a White House virus briefing for the first time since April. He has been in charge of Operation Warp Speed, to roll out a vaccine as quickly as possible, saying the pandemic "will probably, unfortunately, get worse before it gets better, something I don't like saying about things but that's the way it is."
Medical Tyranny: Trump Pivots To Mandatory Vaccinations Under Operation "Warp Speed"
Of course, it'll get worse. The numbers are completely fabricated and the whole coronavirus is a scam to create an economic collapse, and usher in the New World Order and one world currency using the plandemic as an excuse, hoping the elitists will escape blame. Well, some of us have already figured it out.
The only thing Trump is doing now is letting us all know that he's in on it. The sad fact that people still look at him as some kind of savior is kind of disturbing at best and blasphemous to their religious dogma at worst.  He's literally telling us, in not so many words, that he's on the side of the international banking cartel (the Federal Reserve) and the globalists who need the planet to take the vaccine.
Greg Mannarino: It's Critical To Understand That The Goal Is "Full Control By The Federal Reserve"
It All Comes Back To The Federal Reserve: The NWO Is Being Shoved Down Our Throats
The next round of stimulus money will once again, be created out of thin air, and the Federal Reserve will scoop up land, businesses, and other assets as people default on the loans of imaginary money. Hopefully, if nothing else, Trump's words from his own mouth and actions in recent days will wake up those who are still asleep, believing this is a democrat problem. It's not.  It's a war for your mind. It's psychological and spiritual warfare, and Trump has chosen the side of those who want to enslave humanity.
The goal of the Federal Reserve since its inception was world domination. This isn't a secret.
"Full control of the global markets by the Federal Reserve, who is running the entire charade right now. It's simple. It's the Wall Street banks and the Fed that are running the world. And they will do whatever they want. They will get whoever they want in office. That's it." –Greg Mannarino
We have no control whatsoever on who wins these elections.
Basically, we don't control the outcome of elections. The central banks do. If for one second, the Federal Reserve sees Biden as being more "on board" with their epic distribution of debt and credit, he WILL be the next president.  Trump could still  be reelected because he's been incredibly effective at helping the central bank take over the planet in the aftermath of the COVID-19 scam too. –SHTFPlan
We've been warning about this from the beginning. Trump was put in power by the central banks, and if they decide he'll advance their plans to enslave humanity, he'll remain as their puppet in power.  If he even tries to step out of line, Biden will win. That's why he's changing his tune and aligning with the New World Order.  He wants to be the puppet in power. Please wake up.  This is beyond obvious at this point, people.
Prepare, and refuse to live your life in fear.  Live freely like the creator intended and protect your loved ones from this madness. The power is within you. Stop waiting for someone to save you and save yourself.