This article was contributed by James Davis with Future Money Trends.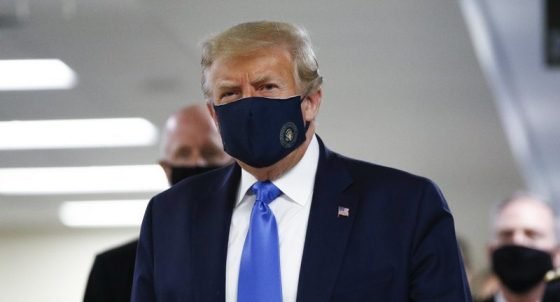 Going into 2020, Donald Trump was the LEADING CANDIDATE. He was a champion of finance, a wizard in terms of stock market returns, fighting for Americans against the rising power of China, in charge of overseeing the lowest unemployment in U.S. history, and winner of the impeachment hoax and various other legal and congressional battles. On January 15th, he even signed the Phase 1 trade deal.
For a man with ZERO POLITICS in his background before getting sworn in TO OFFICE, he was doing pretty well. During his term, two of the Middle East's chief terror architects were killed, a wall was constructed to stop illegal immigration from Mexico, and globalist-focused trade agreements became null and void.
Americans from rich to poor were pretty happy, even if they didn't like Donald's bullying of the media or his overall attitude, which many don't connect with.
His Twitter victory laps about the greatest economy ever, record stock market returns, low unemployment, and his feud with the Federal Reserve over zeroing-out interest rates made him popular with his base.
I loved his achievements, personally.

COVID-19 is Trump's Achilles' heel. In private conversations inside the White House during March and April, he was often quoted asking, "Why is this happening to me?" This shows his mindset was not on solving this pandemic, but on remaining popular and on top.

We can easily see the change in sentiment with businesses and individual voters since COVID-19 engulfed our lives.
He is just not himself. To me, at least, having been a close student of his presidency, it seems that Donald feels like his work ended the day COVID-19 began.

In his mind, what he set out to do in 2016 worked fantastically and a once-in-a-century GLOBAL PANDEMIC can't be the thing that defines his period in the White House.
It almost seems as if he is torn between not wanting the job anymore and wanting to win an election again just for the sake of it.
The United States is so large and so varied that the different states are going through COVID-19 at separate times. One state could flatten its curve while an outbreak occurs at another.
This is why a "V"-shaped recovery is impossible, even though it is beyond any shadow of a doubt that this disease is not the DREADED MONSTER the media hyped it up to be in the Italian case.
Trump's mentality, always geared towards celebrating personal achievements, just can't make the leap and switch to CRISIS MANAGEMENT.
This isn't the time to divide and conquer, but rather bring the country together.

His ace up the sleeve is his SOCIAL MEDIA CAMPAIGN DOMINANCE.
On Facebook, the Trump campaign spent roughly $33M just in the month of April, which is more than double what Biden had.

The way both candidates use Facebook ads is completely different. Biden tries to raise funds while Trump is virtually and digitally targeting the actual individuals that will end up CALLING THE ELECTIONS.
Inside the swing state, within the swing county, penetrating almost to the individual swing voter, like having him knocking on your door… that's how targeted it gets.

In 2016, Trump was a clear underdog and he pulled off the greatest upset in democratic election history.
In 2020, it's hard to call him the underdog, but he is probably behind Biden as of now.

Can Facebook and social media deliver another prestigious win for him?