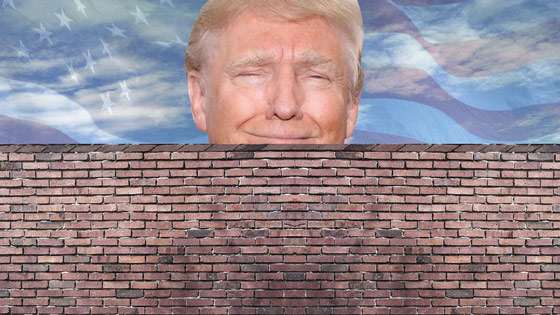 One thing is for certain, a new sheriff is in town.
Well, the phrase is underwhelming given the enormous power now (unduly) vested in the executive branch. But President Trump's stylings as an international negotiator and commander-in-chief harken back to a simpler and more brazen day from the Old West, and he isn't just shaking hands and promising to work on nebulous issues of cooperation.
With promises to build a wall, scale back immigration, send back criminals and welfare dependents and cut off the parasitism from South of the border, President Trump is now demanding that the Mexico President, Pena Nieto – widely viewed as a weak leader – stop the cartels if he could. As the Associated Press reports:
President Donald Trump threatened in a phone call with his Mexican counterpart to send U.S. troops to stop "bad hombres down there" unless the Mexican military does more to control them, according to an excerpt of a transcript of the conversation obtained by The Associated Press.

"You have a bunch of bad hombres down there, and we're going to get them out," Trump told Pena Nieto, according to the excerpt given to AP. "You aren't doing enough to stop them. I think your military is scared. Our military isn't, so I just might send them down to take care of it."

A person with access to the official transcript of the phone call provided only that portion of the conversation to The Associated Press. The person gave it on condition of anonymity because the administration did not make the details of the call public.

The report described Trump as humiliating Pena Nieto in a confrontational conversation.
Openly humiliating another world leader is not the path that the past several presidents have taken. So this is certainly news.
If this report is accurate (Mexico has officially denied it, but another Mexican press agency confirmed that something like this conversation took place), it is a whole new ball game. Sending U.S. troops to take on Mexican gang violence that has claimed that lives of tens of thousands and made true stability and prosperity south of the border absolutely impossible, would be completely unprecedented in the 20th or 21st Centuries, and after decades of officially friendly relations – setting things back to about 1850 when the two countries were last at war.
Of course, just the opposite has been offered from our neighbor to the South. Former Secretary of Foreign Affairs for Mexico, Jorge Castañeda Gutman, made a veiled threat on CNN to attack the U.S., supposing that if the U.S. ended the incentive for friendly cooperation, Mexico might unleash a new wave of cartel violence upon America – on purpose and with a vengeance.
Mexico has a lot of negotiating chips in this matter, Fareed, but it also has measures we could take in other areas. For example, the drugs that come through Mexico from South America, or the drugs that are produced here in Mexico all go to the United States. This is not our problem. We have been cooperating with the United States for many years on these issues because they've asked us to and because we have a friendly, trustful relationship. If that relationship disappears, the reasons for cooperation also disappear.
If anything can stop cartel violence, it may be an end to the drug war and prohibition, which has driven much of the illegal smuggling across borders, and a growing and heightened police state.
Short of that, U.S. troops, or special advisors might make a serious dent, but also risk blowback of counterinsurgency and war in the streets – not only in Mexico, but in the streets of America as well.
Let's hope the best end surfaces quickly.
Avocados and other produce may skyrocket in price; day laborers may be forced back into their failing country and relations could deteriorate into outright hostility towards the gringo.
Trump is NOT willing to play friendly if playing friendly means congeniality in spite of a slap in the face to American interests. In his very first days, the new President-Sheriff has put Mexico, Iran, China and other players on notice, and has explicitly threatened to use American force to back up his tough words and straightforward demands.
For better or worse, this is something no president in memory or recent times has every attempted. We are in uncharted and very dangerous waters. Let us hope President Trump knows what he is doing.
The use of American troops is only meant as a last resort; but arguably, U.S.-Mexico relations are already there and Trump arrived at that point. Every other policy has failed for the past several decades.
How do you think things will play out?
Read more:
Mexican Official Threatens to Combat President Trump By "Unleashing Drug Cartels"
Mass Deportations Loom: 7 Ways To Get Kicked Out Of America If You Are Here Illegally
"And Just Like That NAFTA May Be Over" – Mexico Cancels White House Meeting Following Trump's "Wall Ultimatum"
LEAKED: Read The Full Draft Of Trump Executive Order Restricting Muslim Entry Into USA: Total Ban On Syrian Refugees, Biometric Tracking Systems, More…