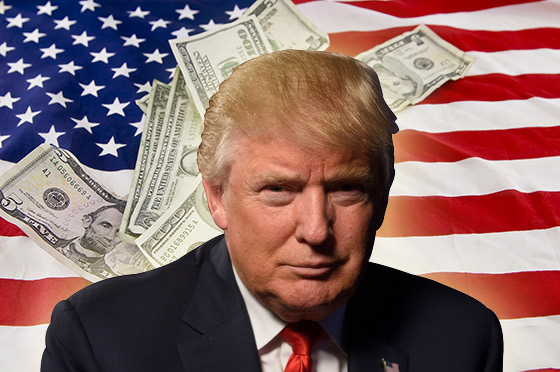 President Trump has called for $2 trillion in infrastructure spending in the upcoming "phase 4" coronavirus stimulus while Nancy Pelosi thinks it'll give Americans even more helicopter money.
"With interest rates for the United States being at ZERO, this is the time to do our decades long-awaited Infrastructure Bill. It should be VERY BIG & BOLD, Two Trillion Dollars, and be focused solely on jobs and rebuilding the once great infrastructure of our Country! Phase 4," Trump tweeted on Tuesday.
https://twitter.com/realDonaldTrump/status/1245000074167541761?ref_src=twsrc%5Etfw%7Ctwcamp%5Etweetembed%7Ctwterm%5E1245000074167541761&ref_url=https%3A%2F%2Fwww.zerohedge.com%2Fpolitical%2Ftrump-calls-2t-infrastructure-package-phase-4-stimulus
Pelosi said this is a chance to make sure more businesses go under too. According to Market Watch, the California Democrat said she would like to see the next bill feature more money for state and local governments, increased protections for workers, more assistance for hospitals and nursing homes and "more opportunity for family and medical leave." So basically, more restrictions on businesses, many of which won't even be around after the economy is back up and running anyway.
"The president said during the campaign — and since — infrastructure was a priority for him. So that's why we believe that in terms of recovery, that's probably the most bipartisan path that we can take," Pelosi said on Monday in a conference call with reporters.
"Still, infrastructure will be an important policy area to watch over the next few months," Beacon's analysts said in a note. "With low borrowing rates and a greater tolerance for deficit spending, some sort of infrastructure legislation could be enticing to include in the continuing response to the coronavirus pandemic."
One politician, House Minority Leader Kevin McCarthy, for his part, has at least questioned whether a fourth response bill is necessary. If the economy is allowed to resume some semblance of "normalcy" a phase 4 stimulus is unlikely to be necessary.  But it also looks like politicians will use this as an opportunity to turn the shutdown into something they can profit from and continually expand their power with.  The coronavirus is not our biggest problem.  We should be more concerned about corrupt power-hungry politicians.