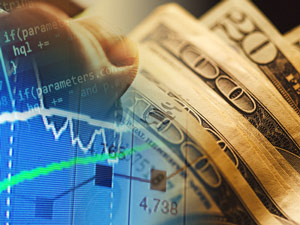 The Dow futures gained 460 points shortly after United States President Donald Trump and Chinese president Xi Jinping vowed to temporarily hit the pause button on their economically disastrous trade war which has been ongoing since March.  Both the U.S. and China agreed to hold off on additional tariffs on each other's goods at the start of the new year to allow for talks to continue for 90 days.
"Obviously there is a long way to go here, but the pattern of previous [Trump] deals is playing out," said one economist, hinting that there's a sentiment of economic hardship regardless of this "halting" of any new tariffs.  This also does not mean already enacted tariffs will go away either, playing into some economists doom and gloom outlook.
Although some believe the damage may already be done to certain segments of the population, the decision to halt further taxes on imports will not further drive the United States into a difficult economic situation. According to CNBC, futures on oil and copper jumped up too after the two political elitists declare they would not steal even more out of their own economies.
The two presidents, who met for dinner on Saturday at the G-20 summit in Argentina, agreed to hold off on additional tariffs on each other's goods at the start of the new year to allow for talks to continue, according to a separate report by CNBC. The U.S. agreed to leave tariffs on more than $200 billion worth of Chinese products at 10 percent.
"The explicit delay in tariffs is on the positive end of expectations," said Helen Qiao, a China and Asia economist with Bank of America Lynch, in a note to clients. "In contrast to the fear — especially in Asia — that the hawks in [the] US administration would make impossible demands, evidence of President Trump working towards a trade deal with China has emerged."
Trump even took to Twitter to announce that the Chinese government has agreed to drop the 40% tariff on cars imported to the Asian nation.
https://twitter.com/realDonaldTrump/status/1069441198157455360?ref_src=twsrc%5Etfw%7Ctwcamp%5Etweetembed%7Ctwterm%5E1069441198157455360&ref_url=https%3A%2F%2Fwww.cnbc.com%2F2018%2F12%2F02%2Fdow-futures-surge-after-trump-and-xi-agree-to-pause-the-trade-war.html
The tariffs could still jump to 25 % if the two countries cannot come to some kind of agreement, according to the White House. Trade negotiations will likely address forced technology transfer and intellectual property.  Additionally, China has agreed in Argentina to purchase a "substantial" but not-yet-determined amount of agricultural, energy, industrial, and other U.S. products to reduce the trade balance between the two, according to the White House.  But China has put tariffs on $110 billion in U.S. goods, meaning they will be taxing themselves if they follow through with this agreement.
"Obviously there is a long way to go here, but the pattern of previous [Trump] deals is playing out," Qiao added. But many investors are taking the news as good, but with a grain of salt. "This is all constructive news for markets, however, the overarching concerns in the US-China relationship remain, and thus should imply caution for markets past the short-term," wrote Sacha Tihanyi, deputy head of emerging markets for TD Securities, in a note. Some of the bigger, structural "issues are not ones that we believe can be easily tackled in a 90-day period."