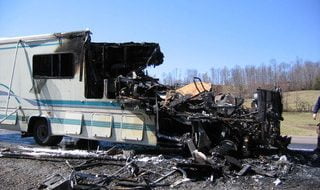 The trade war has seen more losers than winners with the United States consumer and businesses getting hammered the hardest. The institution of tariffs on goods imported from China has resulted in yet another such loss: a crash of the RV industry.
Trade war regulations have damaged the American manufacturing sector, and a lot of stress is building up in the RV industry, according to discussions with industry insiders and economists. Data is showing a sharp sales decline amid increasing costs, reported Reuters.
The recreational vehicle industry has taken a brutal blow from the tariffs imposed on steel and aluminum.  Other retaliatory duties on thousands of Chinese-made RV parts, from electronics to LED lights to vinyl have caused a spike in prices consumers simply cannot afford and a subsequent crash.
https://www.shtfplan.com/headline-news/financial-experts-warn-americans-will-pay-the-cost-of-a-trade-war_07182018
Americans have paid for this trade war in the form of higher prices for goods at a time when most are living paycheck to paycheck.  Certainly, an RV isn't something a person living on the financial edge should consider purchasing, but the trade war has forced those who may have bought to hold onto their hard-earned cash.
Domestic shipments of RVs to dealers have plummeted 22% in the first five months of this year, compared to the same period last year, after dropping 4% in 2018, according to the Recreational Vehicle Industry Association. The RV industry's crisis shows how President Trump's trade war has backfired, hurting the industry he promised to protect.
Tariff-related price hikes have forced RV manufacturers to pass on costs to dealerships, which in turn the American consumer bears the brunt of the tariff, has slowed sales at dealers who are cutting orders and laying off workers. Michael Happe, the CEO of Winnebago Industries Inc, confirmed this, saying tariffs have forced RV manufacturers to increase costs to dealers.
https://www.shtfplan.com/headline-news/trumps-trade-war-an-economic-disaster-with-more-losers-than-winners_03262019
Michael Hicks, a Ball State University economist who tracks the industry, warned that the collapse in RV shipments could indicate a wider economic downturn. Hicks said shipments had fallen sharply just before the last three U.S. recessions.
"The RV industry is a great bellwether of the economy," said Hicks, because the vehicles are an expensive and discretionary purchase, easily delayed by consumers who start to worry about their financial stability. –ZeroHedge
While many American believe the RV industry is entirely American, that's not the case. When Reuters examined supply chains of RV manufacturers that extended into China, the media outlet found that the industry relies heavily on imports for everything from air compressors, electronics, bedding fabrics, lighting, and flooring. Because of this, according to Hick's comments, the next recession may have already arrived with crashing RV shipments spurred by a trade war.