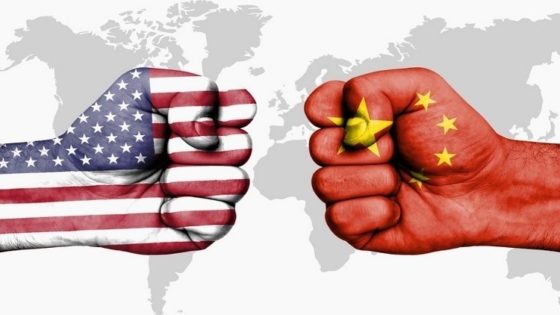 As the trade deficit continues to widen and President Donald Trump ramps up his rhetoric on China, one thing is for certain: the data points show that the United States is the loser in this trade war.
There is no coming out on top when the tariffs, which are paid in whole by American consumers and businesses, are a financial burden and additional tax on your own. According to a report by Reason, investment in American businesses has fallen sharply since the start of the trade war, and American exports are way down too.
https://www.shtfplan.com/headline-news/u-s-loses-big-in-trade-war-imports-rose-exports-slashed_01162019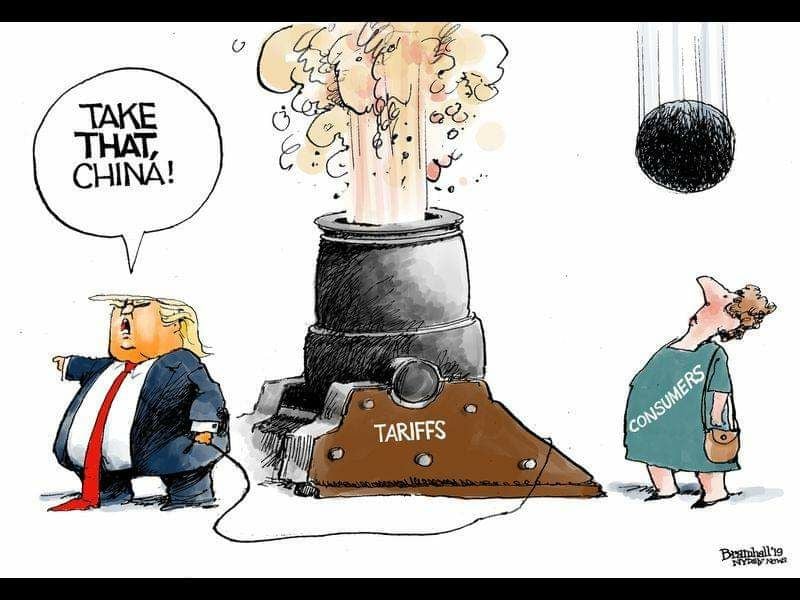 The gap between how much America exports to China and how much it imports from the Asian nation grew to $30.2 billion in July, up from $30.1 billion the previous month, according to Commerce Department figures. But there are three more data points of importance that prove the United States is losing the trade war.
The widening gap was due to a decrease in the value of American exports, Bloomberg reported. The trade deficit has been a problem for Trump and one of the main reasons he started the trade war. Trump has used America's trade deficit as a key justification for his trade policies, and he has repeatedly promised that tariffs on China would reduce that deficit. But as predicted, when one uses central planning and government intervention to mess with the free market, things get worse. Economists generally agree that trade deficits don't matter, as free trade is more important for a stable economy. This is the same reason that you wouldn't worry about running a "deficit" with a grocery store, Reason stated.
Trump's tariffs are having an impact, but not in positive ways for the United States. During the first six months of 2018, U.S. exports to China fell by 18 percent relative to the same period last year. Imports from China slipped by 12 percent. Both sides are doing less trading, but the trade deficit persists.
Three other data points are showing the trade war as an abject failure too:
Business Investments Plummeted 
According to the Commerce Department, investment in American businesses has fallen off sharply since the start of Trump's trade war in mid-2018.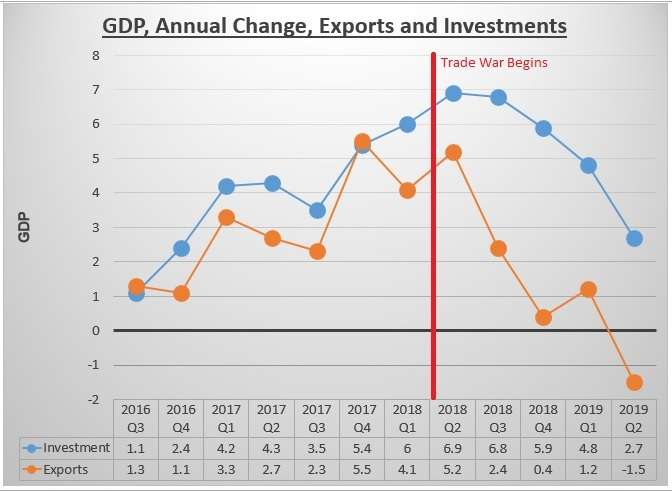 This is a sign that businesses are holding off on hiring and expanding in the face of uncertainty and higher costs.
2. Loss of Goods-Producing Jobs
Trump has also tried to justify his bellicose trade policies by citing the importance of American manufacturing jobs. Not only is the manufacturing sector officially in a recession, but the job losses will have a ripple effect across the landscape of the American economy.
As a perfect encapsulation of where the economy is right now, after a gangbuster 2018, job growth year-over-year in goods is just about where it is for services. Goods has seen a dramatic slowdown, while services has held up better. pic.twitter.com/WvTcdGLjMB

— Martha Gimbel (@marthagimbel) August 2, 2019
Loser for The Treasury
The trade war has been a net loss for the treasury. Sure, there are the billions of tariff dollars paid by American consumers and businesses, but the amount paid to farmers to offset the damage done to them is higher.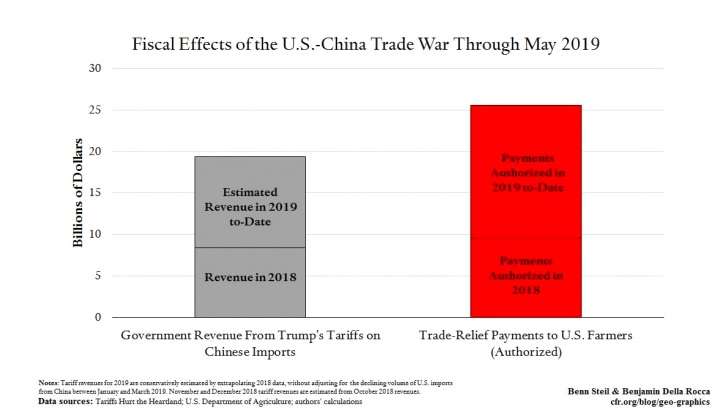 It's time to remove the partisan political blinders that keep people supporting the horrible trade war policies and open our eyes to what's really happening.  The U.S. is losing this trade war and the American consumer is the biggest loser of all.
More government intervention will not fix the problem. Central planning has only made things worse, and it's past time we realize exactly what's happening.
Brace yourself; the future economy's outlook is bleak.