Over the weekend a police officer shot and killed a teenager in Ferguson, Missouri. While the circumstances of the incident are still unclear, what is clear is that our seemingly stable society is just hours away from a total breakdown given the right trigger event.
Within a few hours of the incident residents of the town began assembling, a move that drew a quick response from law enforcement, who set up police lines. Some came geared up with riot masks, shields and rifles.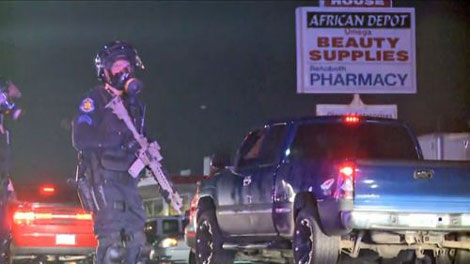 Things are getting intense, bottles are being thrown at the police line #FergusonShooting @ksdknews pic.twitter.com/WIuHlWDLYw

— Elizabeth Matthews (@ElizabethKSDK) August 11, 2014
The crowd was getting fired up:
Police came in force: 
Police line growing on w. Florissant avenue people still chanting "no justice no peace" #FergusonShooting @ksdknews pic.twitter.com/JW3gZqYTvJ — Elizabeth Matthews (@ElizabethKSDK) August 11, 2014
But within hours they were no match for the crowds that had gathered…
Cars and people are packing into this subdivision. Only one street in and one street out. A tactical nightmare if things get ugly tonight.

— Antonio French (@AntonioFrench) August 10, 2014
And then things got ugly.
Aftermath: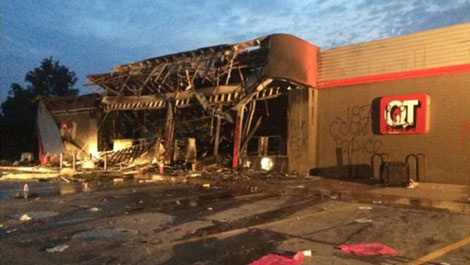 Stocking up: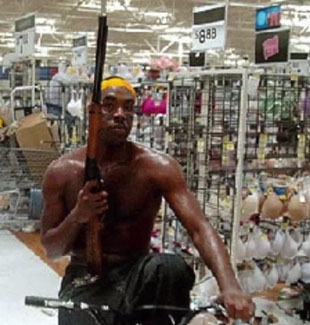 Who's got the lottery tickets?
In an emergency, do not, under any circumstances, forget to grab some brand new tire rims:
Fox News: "There is a lot of looting going on"
The incident in Ferguson, Missouri is a wake up call to those who think that law enforcement and emergency responders will be there to help in the midst of an emergency. Granted, this took place in a town of 20,000, so we are looking at a limited example of how chaotic it would be.
But can you imagine what such a breakdown might look like in a major metropolitan area like Houston, Los Angeles or New York?
And imagine if it was a real emergency – not a riot resulting from a shooting, but a widespread cyber or EMP attack. Within hours of the event grocery store shelves would be looted and completely empty. Police response would be non-existent.
In Anatomy of a Breakdown Tess Pennington, author of The Prepper's Blueprint, explains that when the worst happens you'll have only yourself and those close to you to depend on:
Learn to be self-sufficient and rely on yourself. When it is all said and done, you are the only one who can care for yourself and your family the best. You will be the one who has your family's best intentions at heart. Having a stock of your family's favorite canned or dry goods, a supply of water and a simple medical kit can maintain your basic needs for a short-lived disaster.

This simple preparedness supply could set you apart from the unprepared.
Moreover, as we saw in the videos above, crowds are unpredictable and they are violent, which means you need to be prepared to defend yourself and your home.
The Ferguson riots will more than likely blow over in short order. But, as the after effects of Hurricane Katrina and other recent events demonstrate, Black Swan events happen regularly.
One day it may well affect your city, state, or the entire country as a whole.
If you're not ready for it, then your options will be limited to joining the looters at your local grocery store, or dying without the basic supplies you need to stay alive.