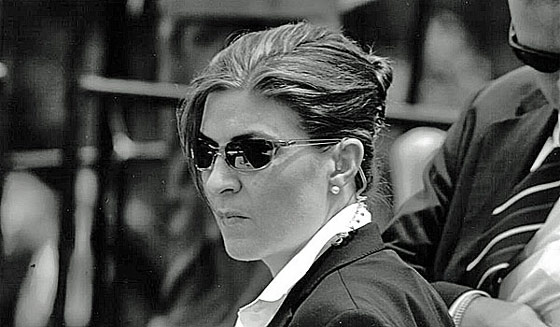 (Pictured: Secret Service Denver District Chief Kerry O'Grady)
As the last line of defense for the leader of the world, America's Secret Service agents are tasked with risking their lives and even standing in the way of a bullet should it be headed towards the President.
But after a tumultuous election year some in the agency are not prepared to do their sworn duty.
In a series of recent Facebook posts Kerry O'Grady, reportedly one of the nation's top Secret Service agents, said she would not be willing to take a bullet for the President.
Kerry O'Grady, the special agent in charge of the Secret Service's Denver district, oversees coordination with Washington-based advance teams for all presidential candidate and presidential trips to the area, including all upcoming or future trips by the president, vice president or Trump administration officials.

Despite her senior security role, she has made her disdain for Trump and his incoming administration clear to her Facebook followers, who included current and former Secret Service agents and other people who were employees at the time of the posts.
The posts, written during the heat of the campaign in late 2016, show that O'Grady was a Clinton supporter and likely assumed Hillary would be elected to the Presidency. Such a move may have done wonders for her career had Clinton become her boss.
In her initial post O'Grady raged about how she is "horrified and dismayed" by Trump and his supporters moving "our civil rights into a period of bigotry, misogyny and racism that this country has not tolerated for decades."
She quickly followed up with another post, in which she claimed she'd rather go to jail than to take a bullet for President Trump:
…this world has changed and I have changed. And I would take jail time over a bullet or an endorsement for what I believe to be disaster to this country and the strong and amazing women and minorities who reside here.
The full Facebook post was captured by The Washington Examiner and was subsequently deleted when the news organization reported it this Tuesday: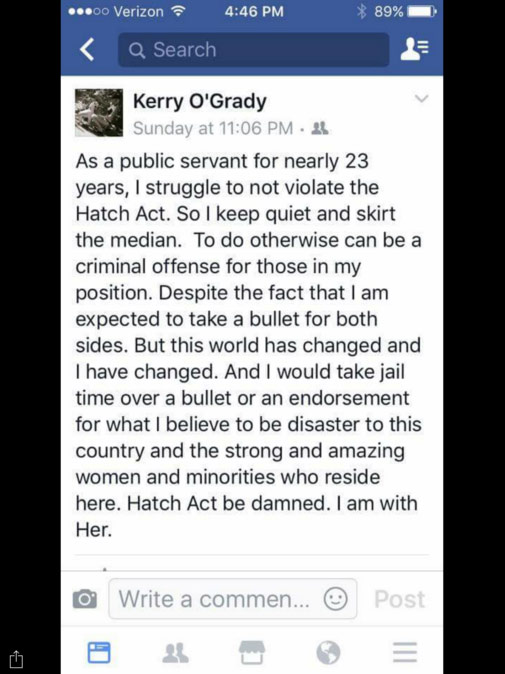 While her actions are certainly being applauded, albeit behind closed doors, by mainstream media pundits who have previously joked about the assassination of President Trump, The Washington Examiner notes that while America's First Amendment protects our free speech, Secret Service employees agree to enhanced restrictions when joining the agency, including the following two rules:
May not post a comment to a blog or a social media site that advocates for or against a partisan political party, candidate for partisan political office, or partisan political group.
May not use any email account or social media to distribute, send or forward content that advocates for or against a partisan political party, candidate for partisan political office, or partisan political group.
Though O'Grady now claims that she would uphold her duty and protect the President, the cat is out of the bag and it is clear that neither the President or his family would be safe in her presence.
The Secret Service said on Tuesday that they are "aware of the postings and the agency is taking quick and appropriate action."
We suspect Ms. O'Grady's career with the Secret Service will be coming to an end in short order:
Related:
Will the CIA Assassinate Trump? "He's Being Really Dumb For Questioning Russia Conclusions"
Creepy CNN Asks: "Who Is Designated Presidential Successor" If Trump Is Killed At Inauguration?
NYT Jokes About Trump Assassination: "Good News I've Figured Out How Trump Campaign Ends"
Donald Trump Rushed Off Stage In Reno By Secret Service – Pictures Of Man Detained By Police – Video – Updates