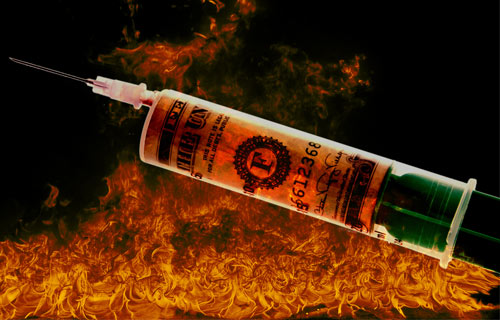 Keith Neumeyer is well known for his unabashed criticisms of government and central banks, having recently highlighted that the entire precious metals market space has been infiltrated by a small concentration of players who are manipulating the market. As the Chief Executive of First Majestic Silver, one of Canada's hottest publicly traded companies, and the Chairman of mineral bank First Mining Finance, he pulls no punches in his most recent interview with TF Metals Report in which he destroys the notion that the Federal Reserve is looking out for the best interests of the average investor and warns that the rampant market intervention in which they are involved will soon lead to serious disruptions to financial markets and the global monetary system.
Quite honestly, if I were part of government I would tell these Fed governors to shut their mouths. I would make it part of their job description that they aren't even allowed to discuss anything openly with anyone publicly… They all want to become movie stars… they just can't get out of their own way… every one of these governors tells a different story… whatever they feel like saying at the time… and none of the stuff that comes out of their mouth is reality. They're just a bunch of academics… they're not part of the real world… they've never had a real job in their life…

They think that what they're doing is actually helpful for humanity… but really what they're doing is just hurting everyone.
Full interview with Keith Neumeyer:
They're not letting the markets actually be markets… I've never seen the government or the central banks so involved in the markets as they are today… these politicians and bureaucrats actually think they have the authority to manipulate the markets on behalf of the people… yet they are hurting the people…

I think the entire system has to be dismantled and we have to start over again…

…

Can you imagine negative interest rates in North America?

There'd be riots in the streets if that happens… The long bond is hitting new lows as we speak.

We're getting really close to Armageddon here. It's going to be absolutely nuts. 
To any impartial observer who has no ties to The Fed, government or mainstream financial media, the writing is on the wall and the pain is undoubtedly coming.
And when it does, Neumeyer says the only option is to be in hard assets. That's why he has gone all-in through his company First Mining Finance with the acquisition of high value precious metals properties.
You just have to be in precious metals. There really are no alternatives… gold, silver… you've gotta be all in as I am… it's just the only place to be as far as I'm concerned.
Neumeyer highlights the fact that large investors and even governments are actively adding to their precious metals positions in anticipation of a significant monetary event.
They know that eventually all of the manipulations will be exposed for the fraud they are. When that happens, look for a total detonation of financial markets and traditional investments like stocks, bonds and real estate.
The only thing that will survive such an event, according to Neuymeyer, will be those historical relics of last resort and the only true money during times of extreme crisis – gold and silver.