This report was originally published by Daisy Luther at The Organic Prepper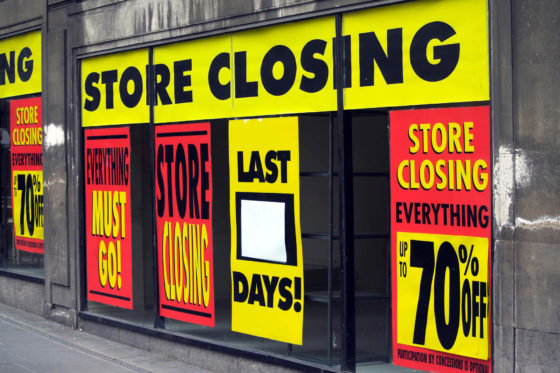 Every year, it seems like more and more retail outlets are going out of business, resulting in the loss of jobs and local supplies. Last year, hundreds of stores closed, and this year, even more shops are scheduled to shut their doors for good.
The 2018 Death List
This year, in an effort to save their businesses, the following retailers will close hundreds of their stores, according to Fox Business.
Abercrombie & Fitch: 60 more stores are charted to close
Aerosoles: Only 4 of their 88 stores are definitely remaining open
American Apparel: They've filed for bankruptcy and all their stores have closed (or will soon)
BCBG: 118 stores have closed
Bebe: Bebe is history and all 168 stores have closed
Bon-Ton: They've filed for Chapter 11 and will be closing 48 stores.
The Children's Place: They plan to close hundreds of stores by 2020 and are going digital.
CVS: They closed 70 stores but thousands still remain viable.
Foot Locker: They're closing 110 underperforming stores shortly.
Guess: 60 stores will bite the dust this year.
Gymboree: A whopping 350 stores will close their doors for good this year
HHGregg: All 220 stores will be closed this year after the company filed for bankruptcy.
J. Crew: They'll be closing 50 stores instead of the original 20 they had announced.
J.C. Penney: They've closed 138 stores and plan to turn all the remaining ones into toy stores.
The Limited: All 250 retail locations have been closed and they've gone digital in an effort to remain in business.
Macy's: 7 more stores will soon close and more than 5000 employees will be laid off.
Michael Kors: They'll close 125 stores this year.
Payless: They'll be closing a whopping 800 stores this year after recently filing for bankruptcy.
Radio Shack: More than 1000 stores have been shut down this year, leaving them with only 70 stores nationwide.
Rue 21: They'll be closing 400 stores this year.
Sears/Kmart: They've closed over 300 locations.
ToysRUs: They've filed for bankruptcy but at this point, have not announced store closures, and have in fact, stated their stores will remain open.
Wet Seal: This place is history – all 171 stores will soon be closed.
And these are just the people who have announced store closures so far. In an environment hostile to brick and mortar businesses, more are sure to come.
Tens of thousands of jobs will be lost.
Even if you don't like to shop, this is a sign of economic trouble. The malls that sit empty are a sign of massive unemployment.
Jobs in the retail sector are the most prolific in America, employing 4.3 million workers as salespeople and 3.3 million workers as cashiers. (source) The current store closures mean the end of employment for tens of thousands of workers.
All in all, the collapse of the retail industry could, at some point, put the livelihoods of more than 7 million people in jeopardy. Perhaps the doomsaying economists like Peter Schiff and Dave Kunstler are right when they warn that a Great Depression the likes of the one in the early 1900s is upon us. That means not only massive unemployment but also massive hyperinflation, making it nearly impossible to stay fed.
Let's add to rising retail unemployment the move to more self-checkout, more AI, and more computerized systems instead of human staff. It's not too hard to understand why people could soon be dependent on a Universal Basic Income and a return to an almost feudal society.
A Great Depression now would be far worse than the historic one we all look back on.
And if that's the case, it's bound to be even worse. Back in 2006, our urban population exceeded our rural population for the first time ever. This means that people will be unlikely to have the space to grow food for self-reliance.
As well, we've gotten so far away from the skills of self-reliance that it's practically a lost art. Our society is one of consumers, not producers, and this means that in a depressed economy, many more people will be at the mercy of government handouts. And let's face it, in a depression, those handouts, if they happen at all, will be very sparse.
These days, most folks don't know how to grow food, preserve food, sew, or build. For a list of self-reliant skills and links to places that will help you learn them, go here to my Self-Reliance Manifesto. No matter where you live, some of these skills will be applicable you, and it's more urgent now than ever to put them into practice. To learn more about living through a societal and economic collapse, check out articles by Jose, who is currently trying to get his family out of Venezuela due to their own crisis. (Here's one that is really enlightening.)
What do you think?
Is the retail apocalypse a sign of impending financial doom or merely a move toward a more digital society? Will unemployment begin to rise even further?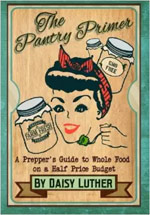 Please feel free to share any information from this article in part or in full, giving credit to the author and including a link to The Organic Prepper and the following bio.
Daisy Luther is the author of The Pantry Primer: A Prepper's Guide To Whole Food on a Half Price Budget.  Her website, The Organic Prepper, offers information on healthy prepping, including premium nutritional choices, general wellness and non-tech solutions. You can follow Daisy on Facebook and Twitter, and you can email her at [email protected]