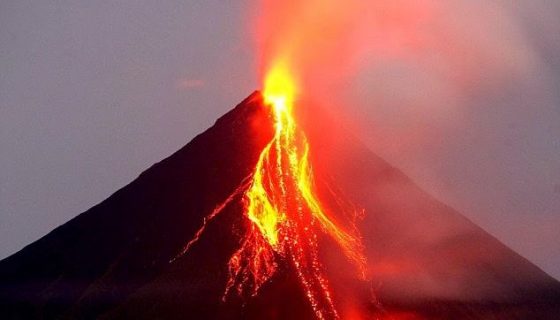 Over 21,000 villagers fled to safety early Tuesday when the Mayon Volcano, which was glowing red hot a few days ago, began spewing lava.  The eruption created a stunning visual display but prompted police to set up checkpoints to prevent tourists from getting to close to the dangerous volcano.
According to CBS News, officials in the Philippines strongly advised people not to venture into a danger zone about 3.7 to 4.3 miles around Mayon, including residents who want to check their homes, farms and animals, and tourists seeking a closer view. "They say it's beauty juxtaposed with danger," Office of Civil Defense regional director Claudio Yucot said.
The Philippine Institute of Volcanology and Seismology said the lava flowed as much as 1.2 miles from the often cloud-shrouded crater of Mount Mayon, while ash fell on several villages in northeastern Albay province. At least 21,800 people have been displaced by Mayon's eruption since the weekend, including more than 16,800 villagers who took shelter in 22 schools, Yucot said by telephone. Others took refuge in the homes of relatives.
"We have witnessed lava fountaining yesterday, that's why we have additional families who evacuated due to the threat," said Romina Marasigan, spokeswoman of the government's main disaster-response agency. Renato Solidum, who heads the volcanology institute, said the flows cascading down the volcano were not generated by an explosion from the crater with superheated lava, molten rocks and steam, but were caused by lava fragments breaking off from the lava flow and crashing on the lower slopes.
Scientists have said that there have yet to be enough volcanic earthquakes to raise the alert level to five, meaning a violent explosive eruption is imminent.
The Philippines lies in the so-called "Ring of Fire," a line of seismic faults surrounding the Pacific Ocean where earthquakes and volcanic activity are common. In 1991, Mount Pinatubo in the northern Philippines exploded in one of the biggest volcanic eruptions of the 20th century, killing about 800 people.