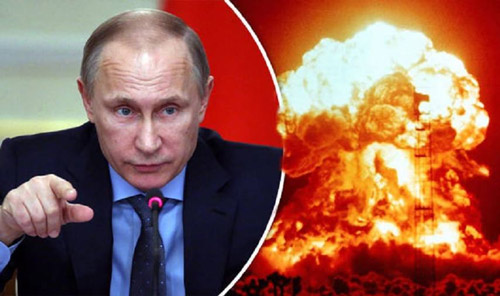 "I have this awful vision of the Baltic States being seized, NATO unable to respond, Putin then blackmails using nuclear weapons what is called chillingly 'nuclear de-escalation' and NATO is unable to do anything about it.  The alliance collapses and at a stroke, Putin has destroyed … the organization perhaps he fears the most, NATO. America is decoupled from Europe and the world is changed irrevocably. 

Add the other chilling aspect of this, that nuclear weapons are hardwired into Russian defense thinking, then it gets really serious and potentially existential.  Because if there is any hint of a Russian military foot stepping across those borders of Latvia, Estonia or Lithuania that means war under article five of the NATO treaty … but it also means nuclear war in Europe. 

We should never assume rationality in strategic affairs, the human dimension is critical here and history is full of examples of irrational decisions being taken by leaders who believe they can get away with it.  What we've seen [in Putin] is an adventurer, an opportunist who's able to make decisions very quickly to seize opportunities as they're presented."

General Sir Richard Shirreff (Ret.), who served as NATO's Deputy Supreme Allied Commander, speaking with London Reporters May 18, 2016.  He referred to the Russian annexation of Crimea as a "copybook military play."
General Shirreff isn't alone in his thoughts, and those reflections are not unfounded.  The Russian annexation of Ukraine was in 2014, and this (as has been mentioned ad infinitum) was in response to the ousting of the Ukrainian president and the insertion of Yatsenuk, a U.S. State Department creation of Victoria Nuland and Senators McCain and Graham.  The annexation was specifically to secure Sevastopol and prevent the Russian naval base from falling into the hands of the Ukraine-U.S.-NATO-IMF hegemony.
That being said, on August 10, 2016 two Russian soldiers were reported killed by the Ukrainian military in two separate cross-border raids.  One FSS officer was killed August 7th and one soldier was killed August 8th.  Now keep in mind: the FSS (Federal Security Service) that controls border guards for Russian territory (in this case Crimea) is also known as the FSB, or the Federal Security Service of the Russian Federation, (in Russian) Федеральная служба безопасности Российской Федерации (ФСБ).  They are the agency that inherited the responsibilities of the KGB of the USSR when it collapsed.
The Ukrainians countered by declaring the charges as being false; however, "false" or not, the incident is serious enough to have warranted comments from Vladimir Putin, as follows:
"From the Russian side there were losses – two soldiers killed. We obviously will not let such things slide by. The attempt to provoke an uptick in violence, to provoke conflict is nothing but an attempt to distract public attention."

-Vladimir Putin to Moscow reporters August 10, 2016
Putin also said that there would be no need to meet with Petro Poroshenko, the Ukrainian President during the G20 summit meeting hosted by China in September of this year.
There have been nightly battles between Ukrainians of Russian-extraction who are pro-separatist and the Ukrainian military.  The contested Donetsk area of Eastern Ukraine has seen fighting even though a cease fire is supposedly in effect.  The Donetsk Peoples' Republic and the Luhansk Peoples' Republics are two of the main factions fighting the Ukrainian military.  The Ukrainian Defense Ministry reported three soldiers killed on August 8th.  The separatists have answered by decrying Ukrainian mortar attacks that are claimed to be inflicting casualties on unarmed civilians as well as the targeted separatists.
Much of this comes as NATO and the IMF continue to attempt to garner Ukraine into the EU and make the country a full-fledged NATO member.  Such an action will not come without a price, however, and an excellent example of this can be found in an article entitled "Ukraine joining NATO would be trigger for war with Russia," by Debra Killalea of news.com.au. 
Killalea conducted an interview with Professor Paul Dibb, an emeritus professor of strategic studies at the Australian National University.  Dibb also was a clandestine agent against the Soviets for twenty years, and is a recognized expert on Russian affairs.  Dibbs stated the following:
"The red line in the sand is if NATO makes Ukraine a member.  That will be seen as a call for war."

Dibbs also added that a nuclear war with Russia was "not an impossibility."
Adding to this thought of Dibbs are the prognostications of Vladimir Putin that the threat of nuclear war is very real.  Stefan Stanford of All News Pipeline reported on August 13, 2016 that Russia is going to hide an entire city in a massive military drill for three days.  The Russian city of Severomorsk of 50,000 inhabitants on the Arctic coast of Russia, according to Stanford's article, will use the drill to cloak the city and its submarine fleet…possibly for the intentions of shuffling the fleet and avoiding notice.
Let's also keep in mind the Soros connection, and how Soros had a failed bid to capture the eastern Ukrainian provinces for mining and natural resources for $50 million…a mere pittance of what the area holds economically.  A bunch of Soros' documents were leaked out over the weekend, and you can access a ton of them at soros.dcleaks.com.  You can enter the section marked "Europe" and read a ton of Soros plans and documents regarding his intentions for the area.
Since these plans tie into the IMF plans and NATO's, it is small wonder that Ukraine is a tipping point that can easily escalate into WWIII.
---
Jeremiah Johnson is the Nom de plume of a retired Green Beret of the United States Army Special Forces (Airborne).  Mr. Johnson is also a Gunsmith, a Certified Master Herbalist, a Montana Master Food Preserver, and a graduate of the U.S. Army's SERE school (Survival Evasion Resistance Escape).  He lives in a cabin in the mountains of Western Montana with his wife and three cats. You can follow Jeremiah's regular writings at SHTFplan.com or contact him here.
This article may be republished or excerpted with proper attribution to the author and a link to www.SHTFplan.com.
---
Also From Jeremiah Johnson:
How To Survive Occupied America: "Red Dawn Just Started… And You're In It"
Russia's Attack Posture: "The Enemy Must Be Destroyed Or Conquered; The Ultimate Soviet Objective Is Total Victory"
Is Putin's Purge Of Top Russian Commanders An Advance Warning Of Large-Scale Military Action In The Near Future?
The Threat Is Real And Imminent: The Next World War Will Be Initiated By A First Strike Utilizing An EMP Weapon
The West Is Provoking A World War: 'Russia Is Being Pushed To Its Limits'
Obama Wants A Third Term And This Is How He Could Make It Happen
Make No Mistake: "Everyone Who Is Warning About Clinton Is A Target and They Are Marked