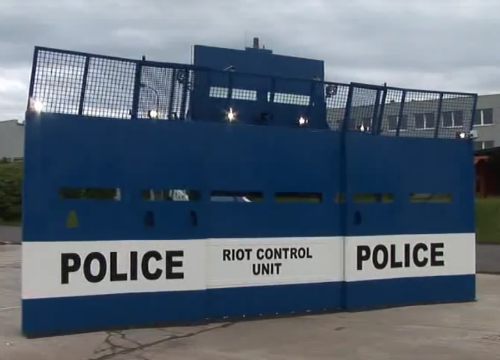 From social media to the mainstream media, it seems like everyone is suddenly talking about a new riot control vehicle that looks downright dystopian and creepy. The vehicle was developed by a Slovakian company called Bozena, and it doesn't look like anything currently owned by any police department.
The vehicle is piloted from an armored cabin, and the cameras that are mounted on all sides allow the driver to see what's going on. Not only does it have high pressure tear gas guns that can spray up to 10 meters, but the newest version also has water cannons that can be controlled remotely. An earlier version of the vehicle could even be driven remotely, and could be mounted with radio jammers and grenade launchers.
And as you saw in the video, it has a low emission engine. According to the Bozena website, that engine has enough power to resist the combined strength of 100 people. I never thought that the emission quality of a riot control vehicle was a concern, but I guess that's a thing now. I mean, does emission quality really matter for a vehicle that is only occasionally used? Maybe Bozena is marketing the vehicle to green friendly governments who plan to suppress a lot of riots.
It seems the vehicle was first mentioned last week by the Facebook media group known as In the NOW. Since then it has been mentioned by Gizmodo, The Daily Mail, and International Business Times among others. Interestingly enough, the vehicle isn't as new as these websites make it seem. The vehicle has been around since at least 2010 in one form or another, and for some reason, no one cared about it until now. And to my knowledge, no police force has deployed it over the years.
I wonder why? Maybe it's because using this vehicle would remind people that they're living in a dystopian nightmare. Anyone who saw this thing in action would probably think, "Hey, haven't I seen something like this before?"