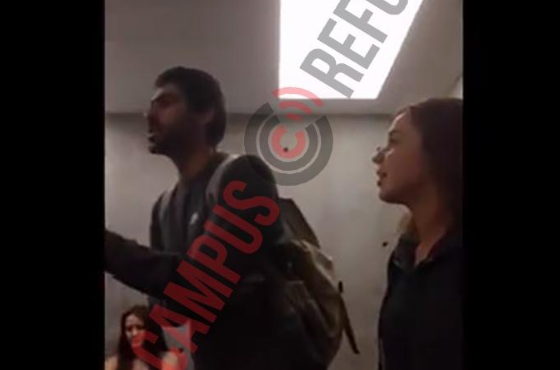 A meeting of the College Republicans at the University of California, Santa Cruz was taken over and subsequently shut down by hard-left students who literally screamed that the groups very existence was a threat to their safety.
The leftist group initially organized the effort to derail the free speech of Republicans on campus in a Facebook post that openly called for shutting down the groups "right of assembly" while also labeling mainline conservatives as white supremacists and fascists.
"White Supremacist, fascist-sympathizing College Republicans are having a meeting at McHenry library, room 0332. Everybody be aware of this violent racist activity happening everyday on this campus!" wrote a student. "We need a movement of people on this campus that rejects the 'right of assembly,' or 'right of free speech' for white supremacists and fascists."
The group then went through with their social media threats, banging on the meetings door and eventually barging into the room to full on disrupt the peaceful meeting while screaming about fascists, racists, and white supremacists. Remember, this was a meeting of mainline conservatives.
Details published by Campus Reform include the fact that the leftist group refused to have any sort of dialogue with the College Republicans.
According to the UCSC College Republicans, their offers to discuss the concerns of the protesters were met with exclamations that "dialogue is violence," after which the protesters called the club's presence a "threat to the library" and demanded that the CR members vacate the space immediately.

The protesters even reportedly berated library staff members when they refused to shut down the pre-approved meeting. One staff member eventually asked the CR members to leave in order to end the disturbance, but meeting attendees chose to respond by sitting quietly and refusing to leave the area.
One student protester laughably ran out of the meeting hysterically screaming about nonexistent "Nazis downstairs".
The commotion culminated in one of the student activists running out into the main library area screaming that there were "Nazis downstairs," but while the gimmick drew several spectators, many of them expressed indignation at the actions of the protestors.  

"As a Democrat, I am embarrassed that some people on the left act this way," remarked Phil Leonard Vogel, creator of the moderate campus news publication City on a Phil. "They give all of us a terrible name."

After nearly two hours, school officials eventually called the police, who reportedly arrested three of the protesters.
Unbelievably, one of the protesters even claimed that the groups very existence was a disturbance. You truly can't make this stuff up.
"Your existence is a disturbance, your existence is a disturbance to every marginalized person in this country."
This is apparently what it means to be a liberal (at least for some) in the year 2017.