This article was contributed by James Davis with Future Money Trends.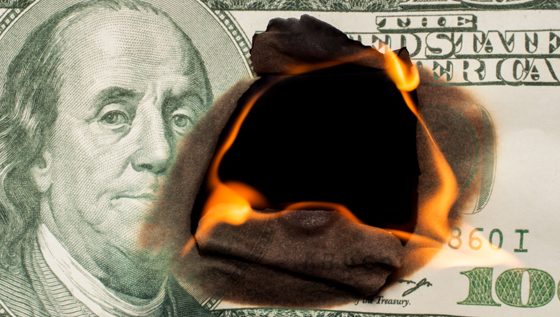 There's much that Americans CAN'T AGREE ON, but one thing is for sure: when it comes to spending money that ISN'T THEIRS by creating more currency out of THIN AIR, most fall in line and share the view that MORE SHOULD COME!
Do you understand that the markets are ACTUALLY RALLYING because things are bad?
Here's the rationale: the economy is shrinking, unemployment rates are SKY-HIGH, the elections are coming, and politicians will treat EVERY DAY like it's Christmas, so markets must go up.
In fact, August 2020 was the S&P 500's BEST AUGUST in 26 years! The problem is that the Volatility Index is rising along with it in tandem. This ONLY OCCURS before big pullbacks.
This isn't the only MARKET RARITY of August 2020. Along with the VIX rising with stocks, August saw the markets BEAT BONDS by the greatest amount in nine years!
Cash has simply been a POOR CHOICE for an investor since March; as you'll see below, SILVER is the best-performing major asset in 2020:
Silver's beating gold, and even the NASDAQ 100 composite in August and throughout 2020.
The gold/silver ratio is now the lowest it's been since MARCH 2017!
You'll remember that we called the bottom on it when it hit 120:1, and WE'VE BEEN SO RIGHT. With the index now at 69:1, I expect the gap to close EVEN MORE.
The main reason for this rally is that the U.S. dollar has gone from OVERBOUGHT in March to NOT OVERBOUGHT today, but anyone who tells you that the dollar is losing its supremacy or that the world is LOSING FAITH in it is being premature or disingenuous.
For lack of an alternative right now, the dollar is still the king of fiat currencies.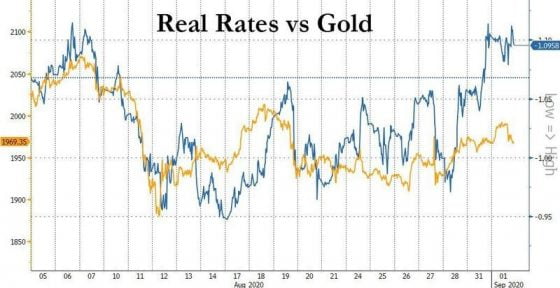 As you can see above, since peaking on the 5th of August, gold has traded down and THEN FLAT, yet real rates have resumed their downtrend. They've gone back to -1.09%, which CAUSED GOLD to reach its all-time high, so I'm BULLISH AGAIN!
In fact, I'm constructing a WELL-DIVERSIFIED gold, silver, and base metal stock portfolio, which I'll publish NEXT WEEK.
In our company's history, we've never done anything QUITE LIKE THIS.
The portfolio will be in the form of a special PDF report and the aim is to give you a POINT OF REFERENCE so you can conduct your own due diligence.
As you can see, sitting at home and TRADING STOCKS ALL DAY seems to be the pastime of the millennial generation. They need to prepare themselves to GET WHACKED by the professionals, which won't be able to resist selling since prices have just GONE PARABOLIC, with TSLA up 75% in August alone, for instance.
I know for a fact that the world's top investors are DISGUSTED WITH this bubble and that they're pursuing creative and alternative ways of buying value and generating returns.
Unless this recovery HAS LEGS in the real economy, these options traders are about to learn A VALUABLE LESSON; greed must be contained – OR ELSE!