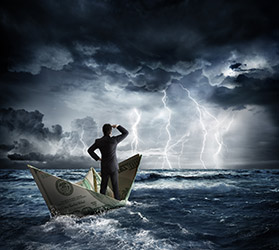 The global powder keg is rapidly approaching a detonation point. The signs are everywhere.
Confidence in the economy is deteriorating. Anger is boiling over. Panic is taking hold.
Wealth Research Group says we may be on the cusp of another Great Depression and Americans are simply ill-prepared to deal with it.
The U.S. has never experienced a full blown, prolonged, nigtmarish depression, and the people of this country are just not prepared…

Things could get desperate and the masses will not like it… mass panic psychology is a wildcard at that point…

The second wildcard is the global economy itself… anything, anywhere can trigger panic… you might have just opened a new business, taken on a mortgage, or just retired… and your reality can change for the worse in an instant… and you have no control over it.
Watch this short video for facts you'll never hear from the mainstream media:
The government won't be bailing anybody out this time around… In fact, they won't even be able to save themselves.
For more videos like this one visit Wealth Research Group
Prepare for what's coming and download the Uncharted Waters Special Report for free!