This article was originally published by Tyler Durden at ZeroHedge.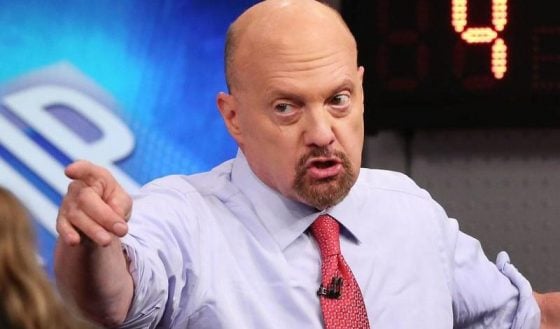 Jim Cramer on Thursday called for the federal government to immediately print $500 billion to address the coronavirus outbreak, and suspend all taxation during the crisis.
"Everyone owes the government at all time. Everyone in this country, individuals, corporations. That has to be suspended right now so they have more money," he said.
"Are these radical actions? You bet they are," Cramer added. "This is the time for radical action and the action can be done by the federal government."
"They know nothing," the CNBC host began to rant, referring to the government's response to the crisis, " there are no signs anyone in government understands the problem."
"We know more than they do, and that's not acceptable either," he added.
Cramer also recommended that companies tap their credit revolvers and that there should be no stigma attached to it when they do so.
This is a DIFFERENT TIME. Only the Federal government can get us through this. ONLY. NO ONE else is big enough. This is my last shot to help this situation. The laughed in 2007 at me. NO MORE LAUGHING

— Jim Cramer (@jimcramer) March 12, 2020
His comments come on the heels of President Trump's prime-time Wednesday address in which he announced that travel would be suspended to most of Europe for 30 days in an attempt to slow the spread of coronavirus. He said he will also ask Congress to provide payroll tax relief for Americans – and would instruct the Small Business Administration to "provide capital and liquidity" to small businesses.
The moment we may all remember, shows the power of @jimcramer and @CNBC – Jim calls for the federal government to back liquidity and credit. Instantly gets phone call on live TV, returns to say the White House is discussing his plan. pic.twitter.com/bs1u7h3Vfw

— Robert Frank (@robtfrank) March 12, 2020
Cramer's Thursday comments were reminiscent of his infamous "They know nothing!" rant in 2007.
'They have no idea how bad it is out there… NO IDEA. They know NOTHING!'
Of course in 2008: 'Bear Stearns is fine.'
Investor Peter Schiff disagrees with Cramer, big time:
Crazy @jimcramer just advocated live on @CNBC that the Federal Government suspend all taxation and just "print the darn money." A new low for economic thinking from the network that claims to be number 1 in finance!

— Peter Schiff (@PeterSchiff) March 12, 2020
Has @JimCramer ever considered what would happened if everyone stayed home from work, no one produced anything, no one paid taxes, but the government just printed trillions of dollars out of thin air and effectively dropped them on the populace from helicopters?

— Peter Schiff (@PeterSchiff) March 12, 2020
The feeling was largely mutual across Twitter, though some agree:
JIM CRAMER: THEY KNOW NOTHING. THEY KNOW NOTHING. I WANT THE FEDERAL GOVERNMENT TO KNOW MORE THAN ME.

Cramer's remarks after calling for a Fed rescue of any S&P 500 Company that goes under during this environment. "#Captialism"

— John Tuld (@BradHuston) March 12, 2020
https://twitter.com/RudyHavenstein/status/1238094814152982528?ref_src=twsrc%5Etfw%7Ctwcamp%5Etweetembed%7Ctwterm%5E1238094814152982528&ref_url=https%3A%2F%2Fwww.zerohedge.com%2Feconomics%2Fthey-know-nothing-again-jim-cramer-calls-government-suspend-taxes-print-way-out-covid-19
Jim Cramer just called not bailing out the banks the "let them eat cake" way of handlinga financial crisis. What an absolute ass backwards statement.

— Trailduster6bt?? (@trailduster6bt) March 12, 2020
https://twitter.com/VGKnightinArmor/status/1238103556705550340?ref_src=twsrc%5Etfw%7Ctwcamp%5Etweetembed%7Ctwterm%5E1238103556705550340&ref_url=https%3A%2F%2Fwww.zerohedge.com%2Feconomics%2Fthey-know-nothing-again-jim-cramer-calls-government-suspend-taxes-print-way-out-covid-19
I agree with Jim Cramer, where are the Hank Paulsen's of the current administration, it needs decisive measures to placate the market and recover some semblance of rationale. It is absolutely ridiculous that all trust and confidence can simply go up in smoke!

— bulldog (@rivock) March 12, 2020