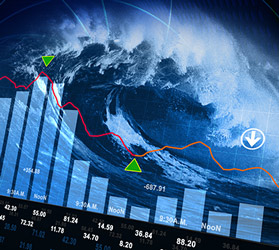 How do you know when the world's economic, financial and monetary systems are in trouble?
Answer: When re-insurance companies, whose sole purpose is to insure other insurance companies, start to panic into gold and begin hoarding cash it's probably a reliable signal that things aren't going as well as our central bankers' best laid plans imply.
That's exactly what's happening right now:
A real paradigm shift is taking place in the markets…  Even one of the world's second largest re-insurers is now buying physical gold… They're even adding physical cash… This is the insurance industry's insurance company… They are the risk experts and they now are buying physical gold bullion and storing physical cash… The importance of this move is possibly the most significant flow of capital that you will see in your lifetime…
Watch via Future Money Trends:
This is just the beginning… an avalanche of buying will soon take the gold price higher than central banks could imagine… If just 5% of assets under management from the top 500 fund managers flowed into gold, the results would be stunning… that would be $3.9 trillion… the price level of gold would have to rise dramatically in order to meet this demand.
We've already seen what happens when market panic takes hold. As stocks crashed in earnest at the beginning of the year, gold and gold mining companies sky-rocketed in price. The same scenario played out following the post-Brexit meltdown.
When confidence is lost and markets crash investors will run for the safety of gold and silver. And as was recently noted by Doug Casey, the panic buying that will ensue once the floodgates are open could drive precious metals to levels that most people can't even imagine.
Visit Future Money Trends for more commentary, video reports and interviews with leading financial experts.