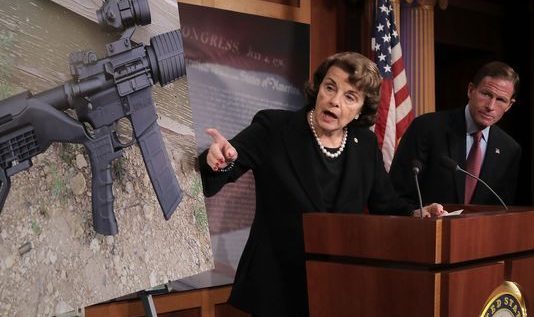 Roughly two dozen Democrats in the Senate have banded together to create a bill that bans "assault" weapons and the bump stock.
The coalition of comrades is being led by (unsurprisingly) Dianne Feinstein of California. "We're introducing an updated Assault Weapons Ban for one reason: so that after every mass shooting with a military-style assault weapon, the American people will know that a tool to reduce these massacres is sitting in the Senate, ready for debate and a vote," Feinstein said in a statement.
Isn't there a similar "tool" already in play? It's called a ban on murder. But Democrats don't appear to care. They are concerned only with the destruction of rights. Congress previously enacted an assault weapons ban in 1994, but that legislation expired in 2004. It also failed to stop the Columbine shooting in Colorado, which happened in 1999. So claiming an assault weapons ban will "work" is naive at best, and fundamentally flawed at its core at worst.
The Democratic legislation would ban the sale, production, and transfer of military-style assault weapons, with some exceptions (because the government has to remain armed), though owners of these weapons would be able to keep those they already own. The bill would also ban magazines that hold more than 10 rounds of ammunition.
It also would require a background check on any future trade or sale of an assault weapon covered by the legislation, require any guns grandfathered under the bill to be securely stored, and prohibit transferring high-capacity magazines.
The main issue here is that it's only a matter of time before the comrades on the left are successful at disarming the citizenry. For a nation already in the grips of soft tyranny (the United States is ranked 23rd in the world for individual freedom. So much for the land of the free), it won't take much more for the few freedoms we have left to evaporate. Gun rights may be the only thing left keeping us in the top 50 on that list.