The following article was originally published by Joshua Krause at Tess Pennington's ReadyNutrition.com.
Tess is the author of The Prepper's Blueprint: A Step-By-Step Guide To Prepare For ANY Disaster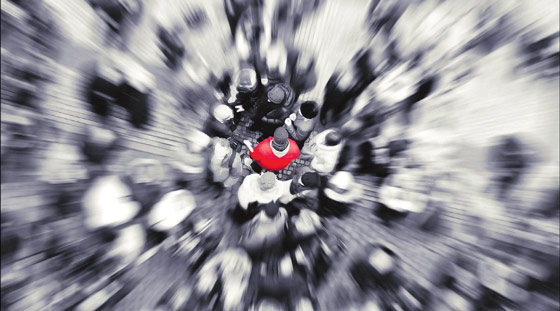 There are a lot of reasons why people prep for disasters, but there's one reason that's far more popular than the others. What people fear most when they think about what would happen if society collapsed, isn't hunger, disease, or exposure. They fear what other people might do to them when the chips are down.They worry that members of their community might hurt or kill them to survive.
And though most preppers won't admit it, I think most of us fear what we might be capable of in a bad situation. We don't have to find out if we have enough food stocked up in our pantries.
However, it should be noted that there is an alternate view on what most people will do if society collapses. For historians who study disasters and social collapse, there is hope that people won't automatically turn into savages if the grid goes down. A writer for Slate recently interviewed several experts on this topic, and here's what they had to say:
Can this ray of sunshine be trusted? I'd love to believe it can be. I asked Scott Knowles, a historian of disaster, what historians and sociologists who study collapses and disasters have to say. His answer: It depends. "We help, and also we don't," Knowles said in an email to me.

Over the years, academic researchers have gone back and forth on the question. "This whole area of work really got going in the Cold War when defense planners wanted to model post-[nuclear] attack scenarios," Knowles wrote. The Disaster Research Center at Ohio State University (which has since moved to the University of Delaware) "did the work over years to model community response, and they pushed back strongly on the idea of social collapse—they found instead too much of the opposite—people converge on a disaster scene!"
And there are countless examples of people being altruistic and coming together during disasters; perhaps even more so than examples of people turning on each other.
In a 1961 paper (unpublished until 1996), sociologist Charles Fritz laid out the case for this "contrary perspective" that disasters and other majorly stressful events don't necessarily result in social breakdown and trauma.

Fritz, who had begun his observations of disasters while stationed in Britain during the Blitz, reported that during that time he saw "a nation of gloriously happy people, enjoying life to the fullest, exhibiting a sense of gaiety and love of life that was truly remarkable," with Britons reaching beyond class distinctions, sharing supplies, and talking to people they had never spoken with before.

Marshaling sociological and historical evidence, Fritz recounts example after example of people pulling together in the middle of tragedy: black and white police and militia members uniting to maintain order during the yellow fever epidemic in Memphis in 1878; enemies forgetting old quarrels during the German bombing of Krakow in World War II; community members reporting strengthened personal relationships with neighbors after the White County, Arkansas, tornado of 1952.
In general, researchers agree that people will try to form alliances and help each other.
This shouldn't come as a surprise. If humans didn't have an inclination towards supporting each other, then we wouldn't have a sophisticated society to begin with.
However, I think we all know that there is a dark side to our species as well, and many of the examples provided by the author don't reflect that. It is true that we are a social species whose members would rather work together to build a society, but that doesn't mean that there aren't disasters which could easily bring out the worst in us.
The best example that comes to my mind, is the Siege of Leningrad during World War Two. For more than two years, the city was encircled by German forces who cut off all supplies to the city. This lead to the deaths of more than a million civilians, mainly due to starvation. And during that time there were thousands of people who were arrested for murdering others for their ration cards, or killing strangers and family members before cannibalizing them. And in most cases, these people were found to have no criminal records when they were caught.
Point being, there are disasters that will drive ordinary people to commit heinous crimes, and there's a big difference between those incidents, and the disasters that don't lead to massive crime waves. In most cases, a destructive event only leads to temporary disruptions to the supply of food, medicine and fuel. People are happy to work together, knowing that everything will return to normal in short order.
But on the rare occasion that a disaster disrupts the flow of goods and energy for months or years at a time, a significant percentage of the population will turn on their neighbors to survive. There's a direct relationship between how desperate people are, and how far they're willing to abandon their morality to keep themselves and their family fed, and that's something that preppers should never forget.
Related: The Anatomy of a Breakdown
This article was originally published by Joshua Krause at Tess Pennington's Ready Nutrition Website.
Joshua Krause was born and raised in the Bay Area. He is a writer and researcher focused on principles of self-sufficiency and liberty at Ready Nutrition. You can follow Joshua's work at our Facebook page.
---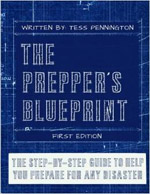 Tess Pennington is the author of The Prepper's Blueprint, a comprehensive guide that uses real-life scenarios to help you prepare for any disaster. Because a crisis rarely stops with a triggering event the aftermath can spiral, having the capacity to cripple our normal ways of life. The well-rounded, multi-layered approach outlined in the Blueprint helps you make sense of a wide array of preparedness concepts through easily digestible action items and supply lists.
Tess is also the author of the highly rated Prepper's Cookbook, which helps you to create a plan for stocking, organizing and maintaining a proper emergency food supply and includes over 300 recipes for nutritious, delicious, life-saving meals. 
Visit her web site at ReadyNutrition.com for an extensive compilation of free information on preparedness, homesteading, and healthy living.