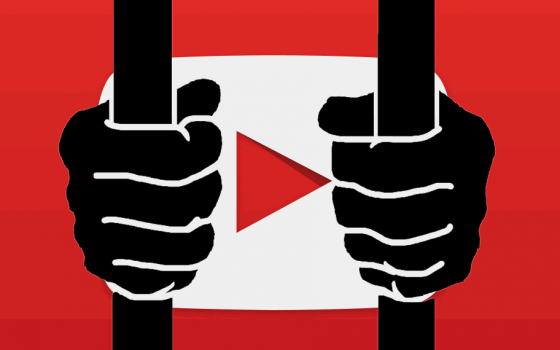 YouTube has begun to purge accounts that they have decided violate "acceptable thoughts." The censorship is continuing and exponentially skyrocketing on all social media platforms.
It seems like George Orwell warned us all of this in his iconic book, 1984.  Apparently, the government (obviously in bed with big corporations like YouTube and Google) will use companies to make sure no one has any thoughts that are not acceptable to the ruling class.
Criticism: harassment
Different opinions: harassment
Cold hard facts: harassment
Edgy humor: harassment
Demonetization: apparent
YouTube?: Dying.

Thanks Susan!

Like I said. 1 step forward, 2 steps back.

— Iraku Music /ACAB ?? (@Dubskillz101) December 11, 2019
Under the new rules, the company will also take a more aggressive approach to "scrubbing" the comment sections, where it says it deleted some 16 million posts just last quarter. While YouTube maintains that it won't go after comments that are merely "negative or critical," detractors said the new guidelines are vague, providing neither clear "lines" nor "guidance, according to a report by RT.
As Ben Shapiro so eloquently noted of YouTubes new guidelines: "They don't set lines, and they don't guide."
So, YouTube has put out its new guidelines. They don't set lines, and they don't guide. https://t.co/yb2lX6OMPo

— Ben Shapiro (@benshapiro) December 11, 2019
"The entire reason YouTube became massive was YouTubers having beef and drama," tweeted conservative writer Paul Joseph Watson, a frequent critic of the platform. "The line between criticism and 'harassment' is now so blurred, nobody knows where they stand."
Many users have noticed that YouTube is going to only punish those who have the wrong opinion on whether or not to bow to the ruling class. If you submit willingly and be a good little slave, you can continue on with your life.  Those who dissent or speak about their oppression by the government will be silenced.
oh #youtubeisoverparty is trending, GOOD

There needs to be some scrutiny against destroying the lives of independent creators and denying them access while putting out the red carpet for establishment corporate interests!https://t.co/qiG8FqwzBK

— Luke Rudkowski (@Lukewearechange) December 11, 2019
Brandon Straka, the founder of the #WalkAway campaign which urges Democrats to leave their party, told Fox News that the guidelines will empower YouTube to "control our political and cultural narratives online," adding that such rules are "rarely upheld when conservative opinions are being targeted by leftist bullying."
Some critics also suggested double standards were at work, noting that late-night talk shows which regularly appear on YouTube feature the same kind of "harassment" – read 'harsh criticism' – prohibited by the new rules, but are unlikely to face bans anytime soon.
Kimmel can make thousands of kids cry over Halloween candy but if a regular YouTuber did that, they'd have their video removed.

— Danica DeCosto (@danicababy) December 11, 2019
It seems like a majority of people think this amounts to nothing more than censorship. And based on YouTube's past, we would have to agree.
YouTube is Planning to Delete All Accounts That Aren't "Commercially Viable" Starting December 10
SILENCED: YouTube Censorship Ramps Up As 17,000 Channels Removed
CENSORSHIP ALERT: YouTube Uses AI For MORE Censoring Of Ideas