This report was originally published at The Daily Sheeple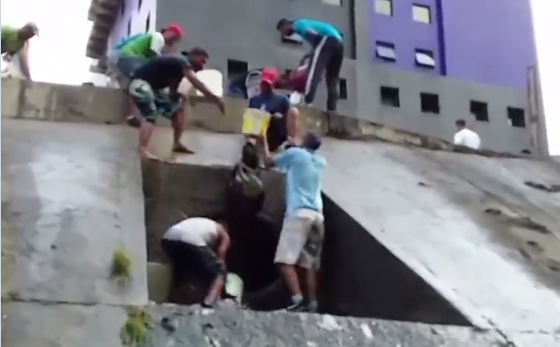 (Venezuelans scramble to find food and potable drinking water)
As Venezuela fell into darkness following an already tumultuous period of starvation and unrest, many thought things couldn't get any worse.
But they did.
So bad, in fact, that local water systems are no longer functioning, which means in addition to a lack of food and medicines, the people of socialist Venezuela are now struggling to gain access to potable water.
"I have 67 years," the director said. "Never in my life, I have seen something like this."

…

There have been reports of stores being looted and families scavenging for food and water anywhere they can.

The crisis was on full display at one river, where families got water despite it being polluted.

Via: ABC News
This is what it looks like when your country completely collapses and fresh water becomes a daily fight  for survival:
People collect water from an open pipe above Venezuela's polluted Guaire River during rolling blackouts as growing chaos takes hold in the country. https://t.co/vvUHIP1yVx pic.twitter.com/d3ekODJdFm

— ABC News (@ABC) March 14, 2019
With the economy in shambles, the US dollar coming under threat from China and Russia, and tens of trillions of dollars in unsustainable debt obligations, the United States could soon collapse in a similar style.
When it happens, most people will be shocked and unable to deal with the situation. Prepare yourself and your family accordingly, because as you can see from the example above, support from your local government is nowhere to be found.