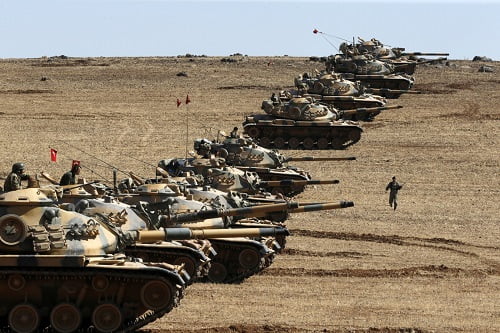 President Joe Biden drew praise from warmongering murderous hawks and accusations of hypocrisy from critics after he authorized a reprisal airstrike on Syria. Biden claimed that by bombing "Iran-backed militia" infrastructure, he is deescalating tensions.
When did bombing others ever result in a "de-escalation?" Here's the "new normal" we should be worried about…
The war machine is back. Biden just hit Syria with a missile strike.

— Carmine Sabia (@CarmineSabia) February 26, 2021
According to a report by RT, the Biden administration, which has publicly stated its intention to return to the 2015 Iran nuclear deal and back away from its predecessor's war-mongering approach, has been panned for seemingly following in Donald Trump's footsteps on Thursday with an airstrike on Syria.
It does appear that at least some Americans are finally taking a moral stance against war and figuring out it doesn't matter which puppet sits on the throne. They are all the same.  People online were quick to remind Biden and his staffers of previous statements denouncing such incursions as dangerous escalations that encroach on Syrian sovereignty.
Online sleuths dug up a tweet by Biden's current spokesperson Jen Psaki, denouncing the Trump administration's missile strike on Syria in April 2017 as illegal. "Also what is the legal authority for strikes? Assad is a brutal dictator. But Syria is a sovereign country," Psaki tweeted at the time.
Great question, Jen! https://t.co/JuV703DaFk

— Jack Posobiec 🇺🇸 (@JackPosobiec) February 26, 2021
The Pentagon said that the attack was launched at 6 pm eastern time on Biden's command, and resulted in the destruction of "multiple facilities" believed to be run by Iranian-backed militias in eastern Syria. The Pentagon spun the assault as a"defensive precision strike," saying it was in retaliation to rocket attacks on the US and coalition troops in Iraq.

"Defensive?" Does anything about initiating an attack defensive? We live in crazy land.

Stay prepared.  War looks like it is still on the table and coupled with all of the other issues the United States is facing under the brutal dictatorship of the ruling and their invented problems.  Stay alert and know what's going on, not just in your neck of the woods, but globally too.

[DISPLAY_ULTIMATE_SOCIAL_ICONS]