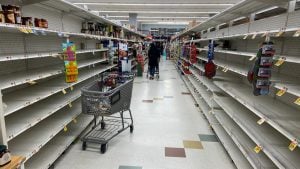 Based on the simple fact that we have all noticed just how much our grocery bills have gone up, it should not be shocking to hear producers claim inflation is going to be running theme in 2022. But one month into this year, many think it'll just "get better."
Major consumer product makers in the United States announced this week they will raise prices more than previously proposed in 2022, announcing the news during post-earnings calls on fourth-quarter results.
"We stand prepared to take more pricing [action] if necessary. We want to see how inflation will play out this fiscal year [which ends on June 30]," the CFO of Clorox, Kevin Jacobsen said, as cited by Reuters and reported by RT. He added that Clorox is in active talks with retailers regarding the size and frequency of the price hikes, and pointed to an "extreme level of cost inflation" as the reason for the price boost. The firm also cut its full-year earnings forecast, with Jacobsen noting that "it's going to take several years for us to rebuild margin [to pre-pandemic levels]."
After announcing that the firing of the un"vaccinated" will begin at Hershey, the chocolate maker also signaled further price increases in the first half of the year, while previously adopted price hikes are to go into effect before March 31. The firm unveiled a somewhat pessimistic forecast for 2022, with executives expecting gross profit margins to drop despite the price increases. But the pessimism could be over attempts to force their employees to be injected with an mRNA drug.
Hershey Company Begins Firing Unvaccinated Employees
If you can actually find the products you need or want in your local expect them to cost more each time you go. People will lay back and take this in the shorts too until they literally cannot afford to eat. When that happens, all bets are off. Hopefully, you are prepared for the shelves to be empty and for what's on them to cost much more than you are willing to pay.