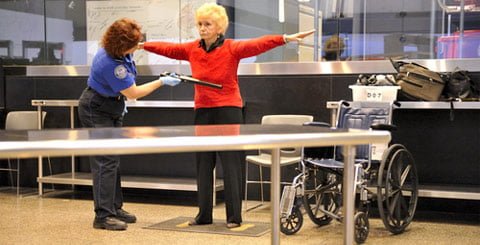 In a very classic sense, it is a strategy for acquiring more power.
Problem. Reaction. Solution.
Though the TSA has never been effective at catching or reducing terrorism, it has become very good at inconveniencing Americans.
Rifling through their things, herding them through x-ray machines reminiscent of Nazi policies, forcing people to withstand increasingly long lines, with many people even losing out on flights. All in the name of security.
After wait times across the country have made headlines and left airport travelers stranded and fed up, Homeland Security chief Jeh Johnson, whose agency overseas the Transportation Security Administration (TSA), is calling for a solution based in… what else… greater security.
Secretary Johnson is using the 2016 travel crisis to push for more sign-ups in its Pre-Check program, in which applicants undergo a rigorous background check and pay an $85 fee for speedy TSA screenings. Johnson dubbed it "the E-ZPass of airports."
As CBS News reports:
As the TSA struggles to fix the airport security gridlock, airlines are jumping in to help.

Atlanta's Hartsfield-Jackson airport is experimenting with a new system to expedite the process with new automated security lanes, which Homeland Security Secretary Jeh Johnson describes as "the E-ZPass of airports."

[Johnson told "CBS This Morning"] that becoming a TSA PreCheck member would help cut the wait down to an average of five minutes or less.

[…]

But Johnson said that even "in the face of increased travel volume, we are not going to compromise aviation security."
Anything to avoid a long line and a pat down, eh?
Johnson's comments gave a strong indication that the controversial agency had no plans of backing down, despite long lines, vowing not to "compromise on security."
In other words, those not willing to sign up for the additional background check program will be left waiting.
For now, this Pre-Check system is an elite path to bypassing the rigor and discomfort of TSA screenings and speed up the hassle of traveling.
In the long run, it is part of the biometic ID grid that will place everyone under preemptive suspicion and real-time, global surveillance and monitoring.
Those who seek greater control are using the problem of long airport lines to whip the public into compliance with its new security systems (which have been active for many years, but so far only adopted by a few).
If people don't sign-up now, can they expect more terrorism to speed the recruitment effort?
Read more:
Shock Security Report: TSA Has a 95% Failure Rate Finding Weapons and Explosives
Report: TSA Interrogates Travelers Carrying Gold and Silver
TSA Administrative Directive: Opt-Outters To Be Considered "Domestic Extremists"
How to Beat a TSA Body Scanner [and Flush a Billion Dollars Down the Toilet] (*Video*)